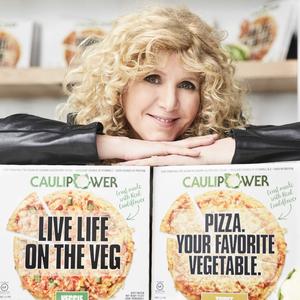 Gail Becker is the Founder & CEO of CAULIPOWER. Her career has spanned media, politics and business during which she held executive roles at Warner Bros., Edelman and the US Dept. of Health & Human Services.
As a mom of two boys with celiac, Gail wasn't happy with the gluten-free options available. Who wants pizza that's full of junk or doesn't taste anything like pizza? Seeing that the industry offered no nutritious solutions for busy families to enjoy together, Gail took matters into her own hands and launched CAULIPOWER in 2017. In less than 2 years, CAULIPOWER has disrupted one of grocery's most stagnant categories, is now the #1 better-for-you pizza, #8 bestselling frozen pizza brand in the US. CAULIPOWER has expanded into other vegetable-forward meal hacks, including cauliflower tortillas, Sweet PotaTOASTS and cauliflower-coated chicken tenders. In addition to being one of the fastest-growing consumer brands in the US, CAULIPOWER was recently selected as one of Nielsen's Top 25 Breakthrough Innovations.
Gail has been recognized for her contributions to business and entrepreneurship, including Woman Business Owner of the Year from the National Association of Women Business Owners; Person of the Year from the NOSH Best of Awards; and Gold Stevie for Entrepreneur of the Year from the Stevie Awards for Women in Business.
Events featuring Gail Becker