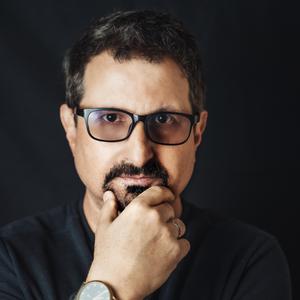 JEFF RONA is an accomplished and award-winning contemporary composer for film, TV, and video games. He was an in-demand studio musician, arranger, sound designer, and synthesis, but focused his efforts on scoring.
Rona has been a collaborator with Philip Glass, Mark Isham, Lisa Gerrard, Basil Poledouris, and longstanding musical relationships with composers Hans Zimmer and Cliff Martinez. He's scored dozens of film and television projects with legendary filmmakers including Ridley Scott, Steven Spielberg, Wong Kar-wai, Robert Altman, Steven Soderbergh, Mark Pellington, Stephen Hopkins, Jonathan Demme, Frank Darabont, and many others. He moves freely between studio and indie films, documentaries, TV and video games.
Jeff has written music for multiple AAA video games including the epic "God of War 3", "Far Cry 4", "Marvel vs Capcom Infinite", "Transformers", "Resident Evil 2", "Crossfire," and the highly acclaimed "Devil May Cry 5" for which he has won numerous awards.
Events featuring Jeff Rona