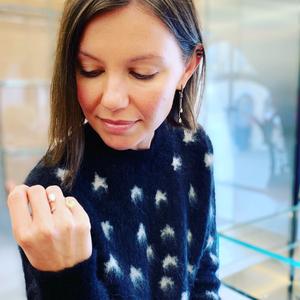 Violet Gross is CEO and Co-Founder of Tulerie. Violet is a former accountant who migrated to fashion tech. Prior to co-founding Tulerie, she co-founded MyMenu Dining, an app-based platform aiming to make dining out easier for people with food allergies.
Before becoming an entrepreneur, Violet spent the first eight years of her career in the automotive industry working with Chrysler, Infiniti and Bentley Motors managing operations and leading expansion plans throughout the Chicagoland area. She then migrated to finance spending a number of years with a boutique hedge fund.
Violet is a Chicago native, now living in New York. She holds an MBA in Marketing, Entrepreneurship and Management (2014) from Northwestern's Kellogg School of Management and a Bachelor of Business Administration in Accounting and Business/Management (2006) from DePaul University.
Tulerie is a clothing and accessory rental platform comprised of a curated group of women who share their closets with one another. Tulerie's goal is to build a community through a shared love of fashion, while reducing the amount we purchase individually.