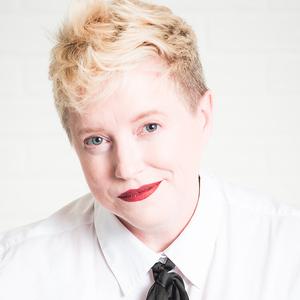 Jenny Bergman would call herself a failed musician if she had actually bothered to be one. All things considered, she's probably better off working for musicians instead.
Inspired by a rousing Cindy Gallop keynote in 2015, designer and photographer Jenny Bergman decided to create her dream job rather than wait for it to happen. So she started a boutique agency for independent music, The Secret Bureau of Art & Design. Jenny's specialty is deep collaborations with emerging and established indie artists to help bring their creative visions to larger audiences. After two 2018 Boston Music Award nominations, she must be doing something right.
Jenny is a well-known presence in Boston music venues, recording studios and non-profits. For the past three years, Jenny has helped build successful crowdfunding campaigns and album releases for local and internationally touring independent artists. Her work has been published in the Boston Globe, Boston Herald, Boston Pride Guide and Vanyaland. She is also the Artistic Director of Bust Out Boston, an annual showcase celebrating womxn in Boston music. As a long-time volunteer for Girls Rock Campaign Boston, Jenny believes in the importance of empowering girls and women through music.
Jenny lives in the Dorchester section of Boston, MA with her partner, their three delightfully weird kids, and two even weirder cats. She also gets to live out her dream of being Beth Ditto as the lead singer of a Gossip cover band, Jealous Girls.
Events featuring Jenny Bergman