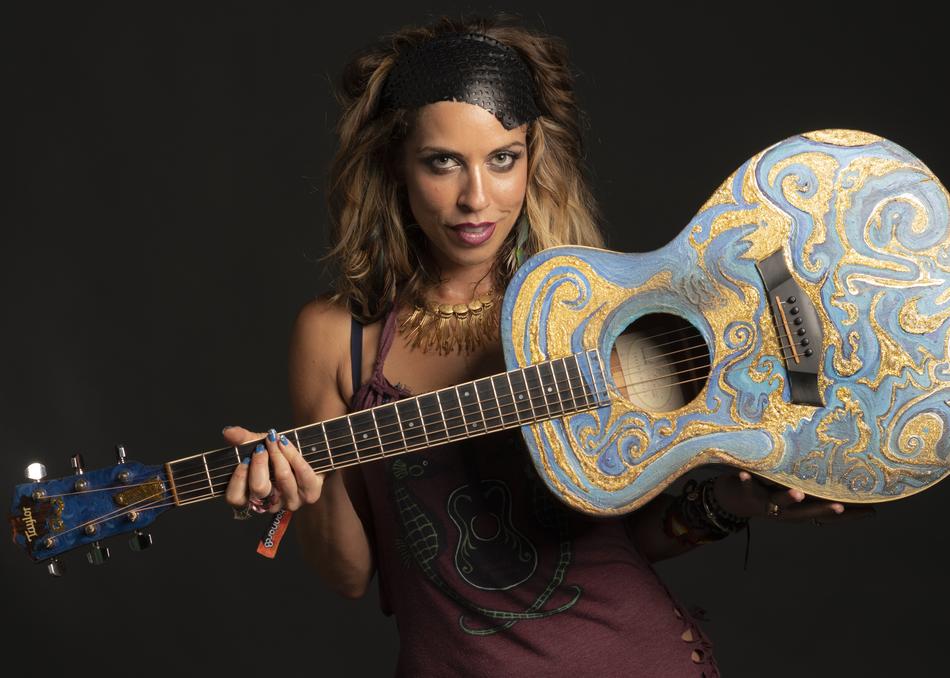 credit: Michael Weintraub
Liah Alonso is a Mexican-American singer-songwriter who grew up between, California, NYC and Mexico. Often called the Latina Lady Gaga for her fabulously bright esthetic, hand-painted golden glitter guitar and powerful voice, Liah is an unforgettable musician and entertainer who's timely music is making people singalong and smile all around the world.
Liah began her artistic career in musical theater and as a subway performer in the subways while attending NYU. She would often perform for hours after class, making up songs about who or whatever was in front of her. Liah's ability to cleverly improvise catchy tunes got the attention from a manager in Nashville who encouraged her to travel to music city to learn the craft of songwriting from the pros. Liah immersed herself in songwriting and formed the America duo LEFT ON RED. The band toured 5 years and went on hiatus in 2017.
The hiatus prompted Liah to travel the world to immerse herself in music and culture. She found herself collaborating people from all walks of life, writing and recorded with musicians across Brazil, India, Mexico and the US. Her recent release, SHINE ON brings together her love of Yoga and pop.
Artist is seeking the following professional connections: Management, Brand Partnership, Other Artists to Tour With, Booking Agent - Worldwide, PR/Publicity Agency, Publishing, Sync/Music Supervisors
Subgenre: Singer-Songwriter
From: New York, NY