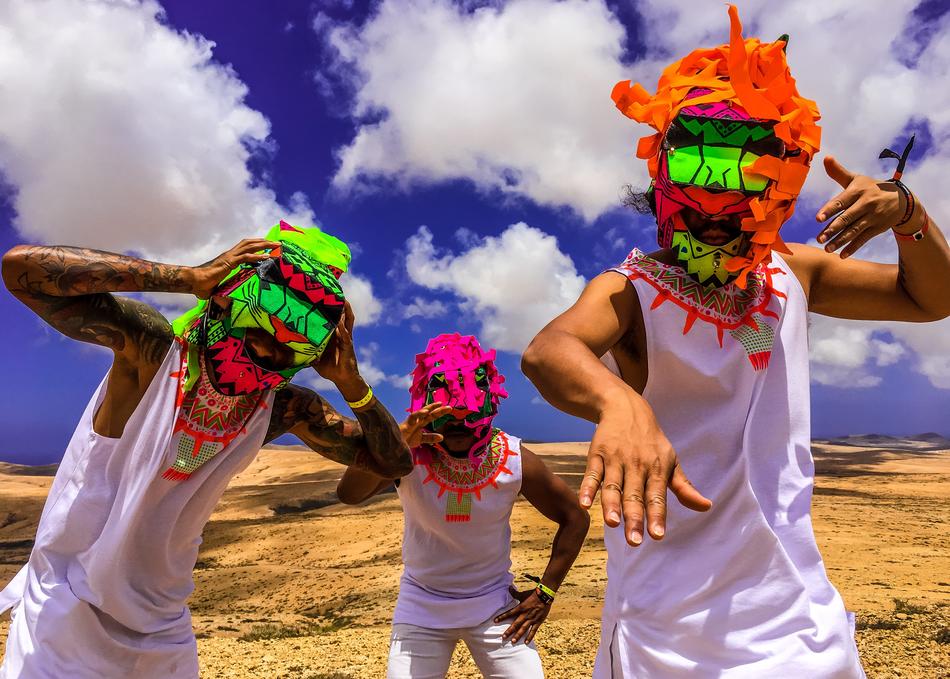 Ghetto Kumbé - Eso No Me Falla
Ghetto Kumbé is the meeting in Bogotá of 3 great Colombian musicians from the Caribbean coast. A combo of wizards' singers and percussionists calling the public all around the world to join their digital rumba. Their transcendent ritual is made with a powerful base of percussions following afro Colombian rhythms inspired by west Africa and Caribbean house beats.
At the end of 2015, they release their 1st EP "Kumbé" and this one directly made them new artist of the year in 2016!
The EP "Soy Selva", produced by the British producer THE BUSY TWIST, was release on Galletas Calientes Records in October 2017. The band will be releasing their 1st full Album begining 2020. For this first album, Edgardo Garcés (director GK) decided to trust again The Busy Twist to push their talent to the next level.
Ghetto Kumbé on tour. GK played in America Latina in the biggest events in Colombia, where they played with RADIOHEAD in the Soundheart Festival, and have been in Mexico, Panama & Ecuador.
In Europe GK already did 6 tours passing by Glastonbury/UK, Roskilde/DAN, Eurockéennes de Belfort/FRA, Ozora Fest/HON, Etno Sur/SPA, Fusion Fest/GER, Paleo/SWI and many more..
Artist is seeking the following professional connections: Distribution - Worldwide, Booking Agent - US, Booking Agent - Worldwide, PR/Publicity Agency, Publishing, Sync/Music Supervisors
Subgenre: Tropical
From: Bogotá, COLOMBIA