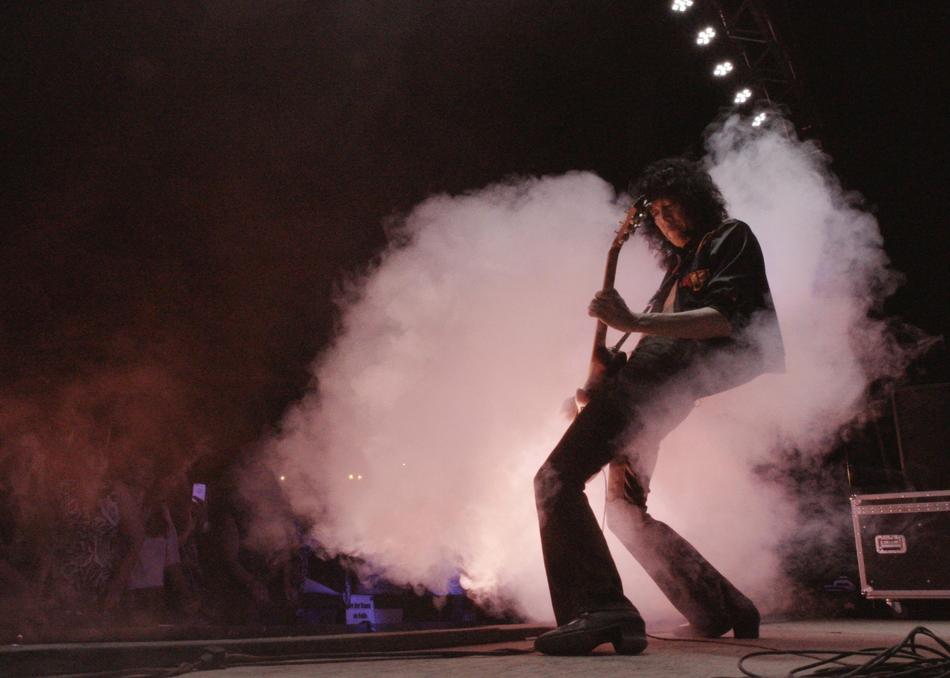 In snowbound Tokamachi, Japan, teenaged Akio Sakurai took refuge in his room, escaping to another world with a pair of headphones and a pile of Led Zeppelin records. Moving to Tokyo, Akio worked as a kimono salesman by day, but by night became "Mr. Jimmy," adopting the guitar chops and persona of Jimmy Page. For 35 years, Akio recreated vintage Zeppelin concerts note-for-note in small Tokyo clubs, until the "real" Jimmy Page stopped by one night, and Akio's life changed forever. Inspired by Mr. Page's ovation, Akio quits his "salary man" job, leaving behind his family to move to Los Angeles and join "Led Zepagain." Soon cultures clash, and Akio's idyllic vision of America meets with reality.
You can catch Mr. Jimmy performing live at the SXSW Music Festival! Learn more by checking out: https://schedule.sxsw.com/2019/artists/2009559


Programming descriptions are generated by participants and do not necessarily reflect the opinions of SXSW.
Director
Credits
Director: Peter Michael Dowd
Executive Producer: Paula Dowd
Producer: Peter Michael Dowd
Cinematographer: Matthew Blute, Ivan Kovac
Editor: Peter Michael Dowd
Sound Designer: Jeffrey Jousan
Principal Cast: Akio Sakurai, Rie Nakahara, Kiyomi Osawa, Junko Sakurai, Shinji Kishimoto, Atsushi Iwasaki, Naoki Washida, Makoto Fukano, Kiyo Yokoseki, Hiroshi Kokai
Additional Credits: Additional Sound Recording: Elizabeth Aubert, Additional Sound Recording: Gabe Stewart, Aerial Cinematography: Jesse Brunt, Assistant Editor: Yukari Kamiya, Assistant Editor: Ami Shimada, Additional Cinematography by: Spencer Byam-Taylor, Additional Cinematography by: Michael Parry, Additional Cinematography by: Patrick Stringer, Colorist: Harris Charalambous, Music Supervisor: Brooke Wentz
Primary Entry: Platinum Badge, Film Badge
Secondary Entry: Music Badge, Interactive Badge, Film Festival Wristband
---
Year:
2019
Premiere Status: World Premiere
Genre: Documentary
Country: United States
Language: Japanese
Runtime: 110:00 mins