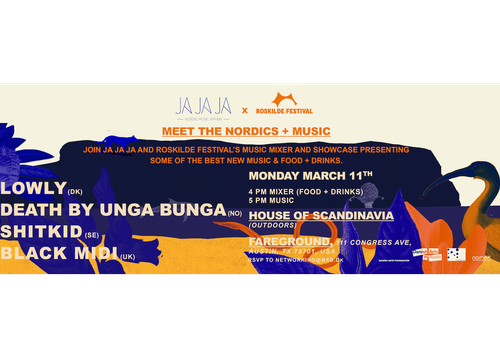 Great music. Food. Drinks. Friendly people. What more do you want? A princess? You got it!
The first hour offers food and drinks, and you can meet people from the Nordic Music Offices, Roskilde Festival, record labels, film and gaming companies and many more. Her Royal Highness the Crown Princess of Denmark will join us and share her thoughts on music. Talking about music is one thing, listening is another: from 5pm you can experience some of the best new Nordic acts including Lowly (DK), Death By Unga Bunga (NO) and ShitKid (SE) followed by hyped London-based Black Midi (UK).


Programming descriptions are generated by participants and do not necessarily reflect the opinions of SXSW.
Primary Entry: Music Badge, Platinum Badge, Film Badge, Interactive Badge