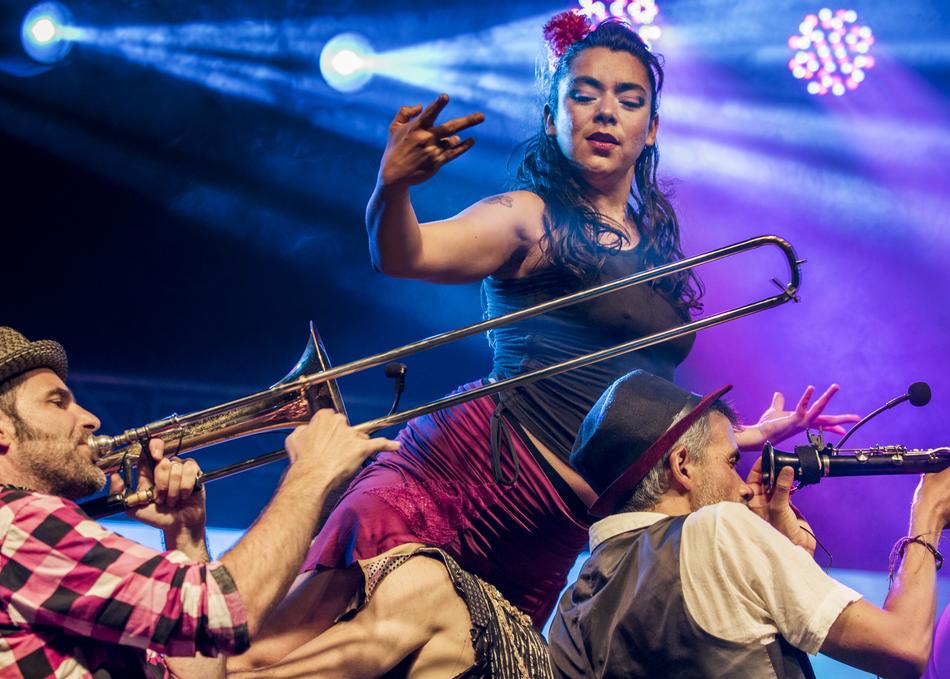 credit: Rachelle Richard- Leger
Gypsy Kumbia Orchestra - Alta Cima
Gypsy Kumbia Orchestra (GKO) original flavor invites audiences to experience movement and freedom. Having roots in Latin America, Africa, India, Europe, Canada and Quebec, the Orchestra of the cumbia gitana is a creative and always engaging band. The passionate GKO artistes will make you feel an urgency to dance and an irresistible desire for mouvement. 
Carmen Ruiz and Juan Sebastian Mejia, both Colombian born, interdisciplinary and nomadic artistes decided to put together a project that convey their artistic vision and experience, with the potential of reaching out larger audiences across the world. Montreal became their base. Since then, GKO has toured Canada, Colombia, France, Czech Republic and Austria, bringing their particular taste everywhere they go.
Under the musical direction of Anit Ghosh in collaboration with Aurelién Tomasi and the enthusiastic and creative input and compositions of the artistes, Gypsy Kumbia Orchestra is preparing a new album to be launched in 2019. 
The movie FAIT VIVIR, directed by Colombian Filmmaker Oscar Ruiz, featuring the band and their artistic vision will also be launched to the world in 2019, after almost five years in the making.
[Programming descriptions are generated by participants and do not necessarily reflect the opinions of SXSW.]
Artist is seeking the following professional connections: Label, Management, Other Artists to Tour With, Booking Agent - US, Booking Agent - UK/Europe, PR/Publicity Agency, Producer/Studio Engineer
Subgenre: Cumbia
From: Montreal, QC, CANADA