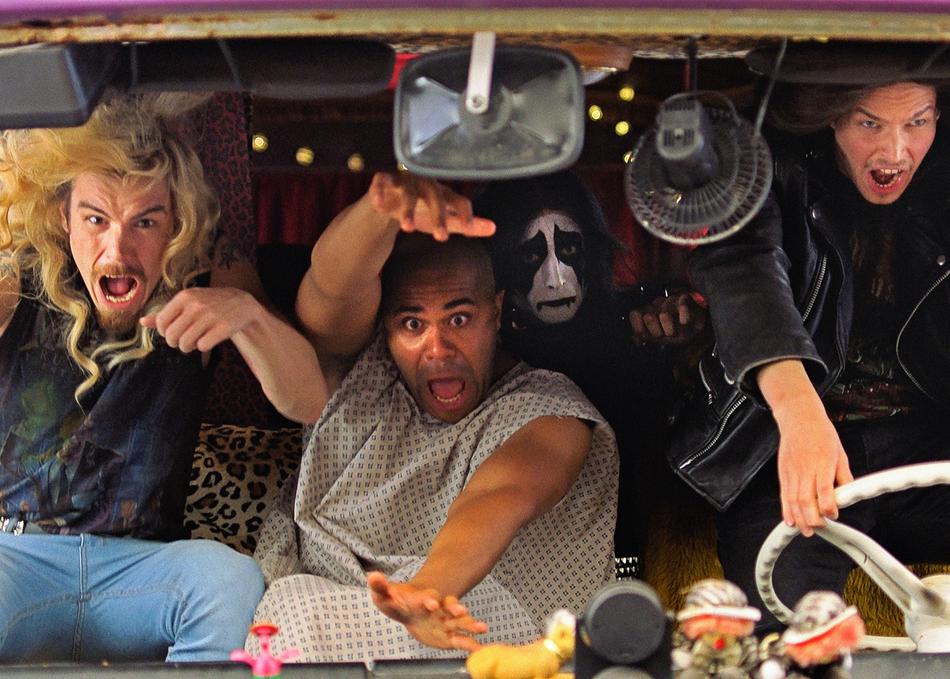 Turo (25) is stuck in a small village in Northern Finland. The only glimpses of light in his life are provided by the amateur metal band, whose vocalist he is.
The guys get a surprise visitor from Norway: the head of Northern Damnation, a huge metal festival. They decide that it's now or never. After a miserable warm-up gig Impaled Rektum breaks up just to get together again. They steal a van, a corpse and a coffin from the local cemetery, a new drummer from the local mental hospital and flee to Norway. As they are escaping Finnish police, they have to face the Norwegian Army and its notorious "Delta troppen" in order to get to play their first real gig.
*Programming descriptions are generated by participants and do not necessarily reflect the opinions of SXSW.
Directors
Credits
Directors: Jukka Vidgren, Juuso Laatio
Executive Producer: Adrian Politowski, Bastien Sirodot / Umedia
Producer: Kai Nordberg, Kaarle Aho
Screenwriter: Jukka Vidgren, Juuso Laatio, Aleksi Puranen, Jari Olavi Rantala
Cinematographer: Harri Räty
Editor: Kimmo Taavila
Production Designer: Juha-Matti Toppinen
Sound Designer: Panu Riikonen
Music: Lauri Porra
Principal Cast: Johannes Holopainen (Turo), Minka Kuustonen (Miia), Max Ovaska (Pasi/Xytrax), Antti Heikkinen (Jynkky), Samuli Jaskio (Lotvonen), Chike Ohanwe (Oula), Ville Tiihonen (Jouni Tulkku)
Additional Credits: Line producer: Pilvi Kuusrainen, 1st assistant director: Iiris Juutilainen, Visual Effects Supervisor: Tuomo Hintikka, Gaffer: Tomi Lakonen, Key Make-Up Artist: Kati Koskela, Costume Designer: Karoliina Koiso-Kanttila, co-producers: Svein Andersen, Kjetil Jensberg / FilmCamp, Jukka Vidgren / Mutant Koala Pictures
Primary Entry: Platinum Badge, Film Badge
Secondary Entry: Music Badge, Interactive Badge, Film Festival Wristband
---
Year:
2018
Premiere Status: World Premiere
Genre: Comedy, Music
Country: Belgium, Finland, Norway
Language: Finnish
Runtime: 90:28 mins