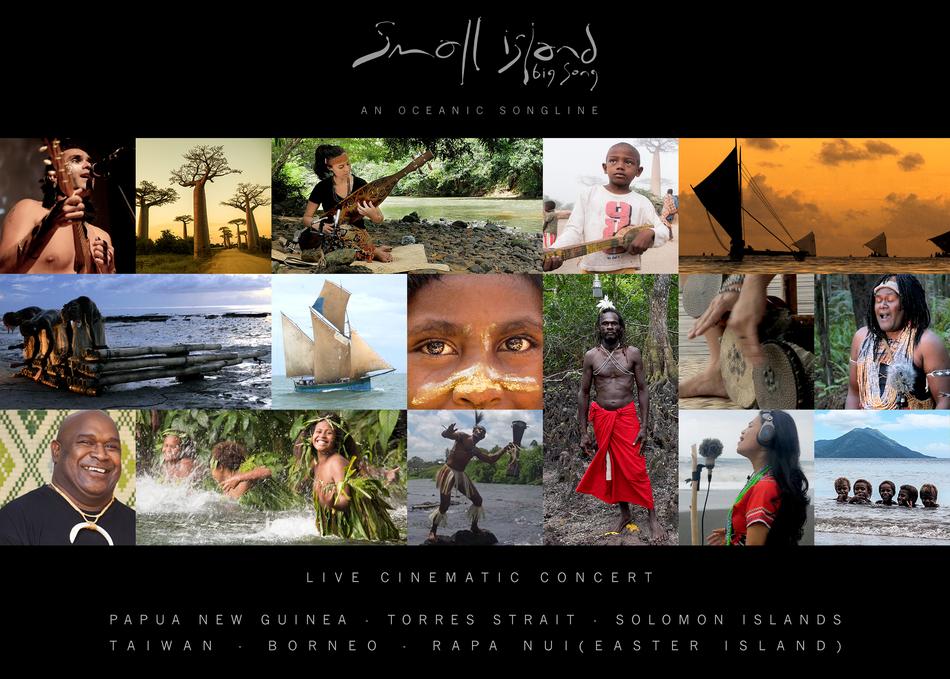 credit: Small Island Big Song
Small Island Big Song - Naka wara wara to'o - Small Island Big Song remix
WORLD PREMIERE AT SXSW 2018 | CINEMATIC CONCERT
Produced over 3 years in 16 islands across the Indian Ocean, SE Asia and the Pacific Ocean, with over 100 artists, the regions first nation peoples recorded in nature with only traditional instruments and languages.
Uniting the ancient seafarers spread over half the earths surface and 5,000 years, onstage and on screen as six of the regions best known musicians perform live with others on screen together, set in the powerful ocean and landscapes of an island too precious to loose.
Onstage.
Ado Kaliting Pacidal - Amis - Taiwan
Mau Power - The Torres Strait - Australia
Yoyo Tuki - Rapa Nui - Easter Island
Charles Maimarosia - Are'Are - Solomon Islands
Alena Murang - Kelabit - Borneo
Ben Hakalitz - Selau - Papua New Guinea
Onscreen.
Kuana Torres Kahele - Hawaii
Tarika Sammy - Madagascar
Airileke - PNG
Gus Teja - Indonesia.
Rajery - Madagascar
Horomona Horo - Aotearoa N.Z
Piteyo Ukah - Taiwan
O Tahiti E - Tahiti
The Vanuatu Water Women - Vanuatu
Producers VJ/DJ
Tim Cole - AUS
BaoBao Chen - Taiwan/AUS
GUITAR - SYNTH - ENGLISH free event.
Artist is seeking the following professional connections: Brand Partnership, Distribution - US, Distribution - UK/Europe, Other Artists to Tour With, Booking Agent - US, Publishing
Artist is seeking the following professional connections: Brand Partnership, Distribution - US, Distribution - UK/Europe, Other Artists to Tour With, Booking Agent - US, Publishing
Subgenre: Soul
From: Melbourne, AUSTRALIA