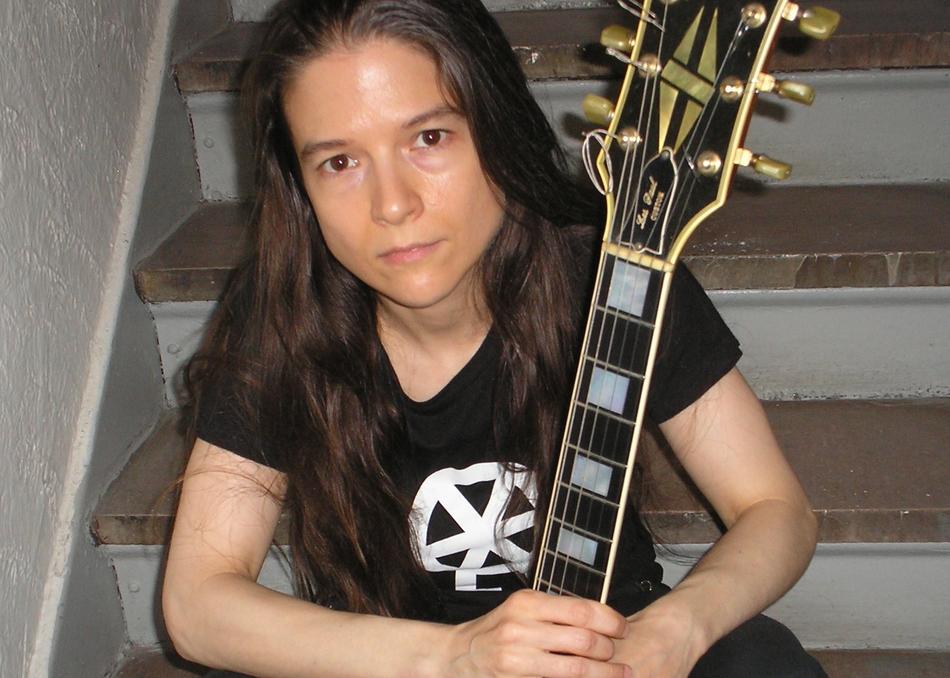 credit: Photo by Glenn Branca
Reg Bloor - Hilarity Ensues
NYC Experimental guitarist Reg Bloor's is about to release her second solo record "Sensory Irritation Chamber" on Glenn Branca's SYSTEMS NEUTRALIZERS label, where she takes her experiments in atonal harmony, dissonance, angular melodies and dizzying meter to new extremes.
Reg has been performing solo since 2014, including at The Red Bull Music Academy NYC and at the OFF Festival in 2014. She released her debut solo CD "Theme From and Imaginary Slasher" in 2015. The New York Observer's Brad Cohan named her one of the 15 Best Metal Bands in NYC.
Reg emerged from the Neo-No Wave scene of the 1990s with the Boston-based band Twitcher who released one CD. She moved to NYC in 1999 and began working with legendary composer Glenn Branca whom she's been recording and touring the world with for 18 years. In 2005, she formed THE PARANOID CRITICAL REVOLUTION who released 3 CDs.
She has worked with David Bowie, Page Hamilton, Thurston Moore, John Patitucci, Annie Clark/St. Vincent, Mike Watt, Adrian Utley (Portishead), Ty Braxton, tomandandy, members of Godspeed You Black Emperor, visual artist Tony Ourlser and on the soundtracks to the films "The Mothman Prophesies" and "Terror Firmer".
Artist is seeking the following professional connections: Gear Endorsement, Distribution - US, Distribution - UK/Europe, Distribution - Worldwide, Booking Agent - US, Booking Agent - UK/Europe, Booking Agent - Worldwide, Sync/Music Supervisors
Artist is seeking the following professional connections: Gear Endorsement, Distribution - US, Distribution - UK/Europe, Distribution - Worldwide, Booking Agent - US, Booking Agent - UK/Europe, Booking Agent - Worldwide, Sync/Music Supervisors
Subgenre: Avant / Experimental
From: New York, NY