Through the Repellent Fence: A Land Art Film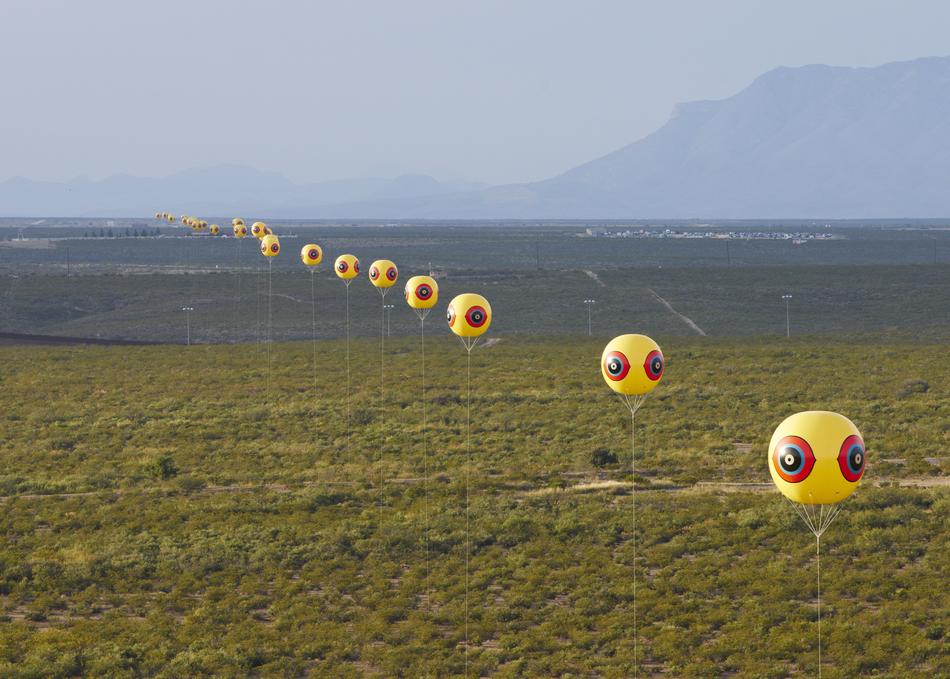 credit: Photo: Michael Lundgren; Courtesy: Postcommodity.
"Through The Repellent Fence: A Land Art Film" follows art collective Postcommodity as they construct Repellent Fence, a two-mile long outdoor artwork that straddles the U.S.-Mexico border. Postcommodity consists of three artists who put land art in a tribal context. In 2015 the artists worked with communities on both sides to install a series of 28 huge inflatable spheres emblazoned with an insignia known as the "open eye" that has existed in Indigenous cultures from South America to Canada for thousands of years. The artwork crossed the border a mile in each direction and symbolized a suture stitching together cultures that have inhabited the land long before borders were drawn.
Year:
2017
Genre: Documentary
Screening Section: Festival Favorites
Screening Category: Documentary Feature
Country: United States
Language: English
Runtime: 74 mins
Director Bio
Sam directed "Honky Tonk Heaven" (2016 SXSW Audience Award Winner), "Citizen Architect" (PBS 2010) and "Holy Modal Rounders: Bound To Lose" (2006). His editing work includes "NO NO: A Dockumentary" (Sundance 2014), "Booger Red," "LaDonna Harris: Indian 101" (PBS 2014) and "Along Came Kinky: Texas Jewboy for Governor" (SXSW 2009).
Credits
Director: Sam Wainwright Douglas
Executive Producer: Shirley Sneve, Paul Hunton
Producer: Julianna Brannum, Jeffrey Brown, David Hartstein
Cinematographer: David Layton
Editor: Sam Wainwright Douglas
Sound Designer: Curits Henderson, Chris Keyland
Music: Water Moccasin
Principal Cast: Raven Chacon, Cristobal Martinez, Kade Twist, Chris Taylor, Lucy Lippard, Matt Coolidge
Additional Credits: Camera: Andrew Miller, Camera: David Hartstein, Camera: Ben Powell
Primary Entry: Platinum Badge, Film Badge
Secondary Entry: Music Badge, Interactive Badge, Film Festival Wristband