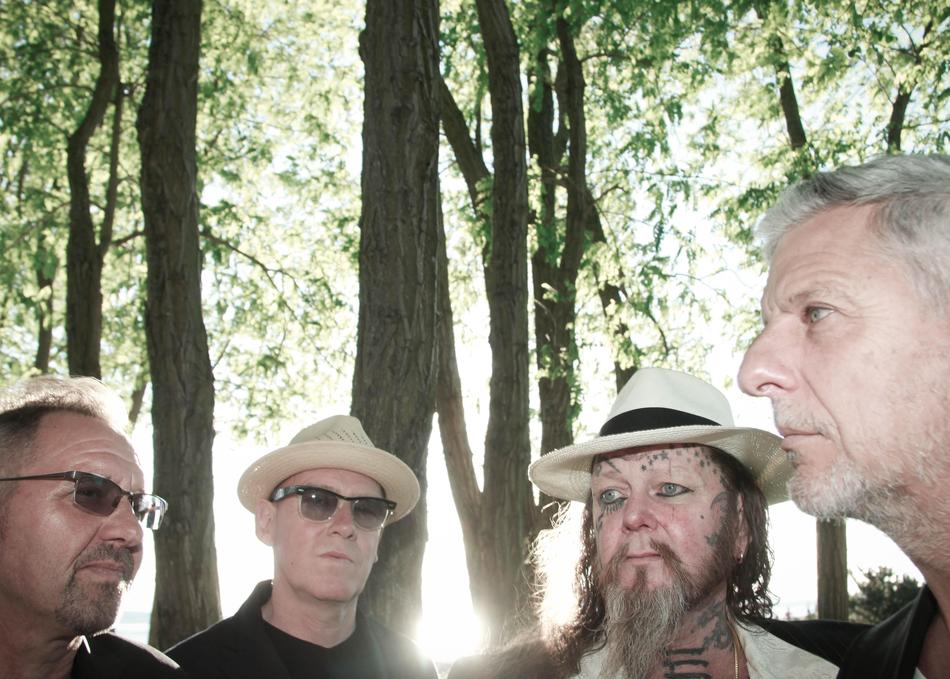 Modern English - I Feel Small
Bands are like families, bound by something deeper than friendship – and liable to implode just as irrevocably. Yet that familial bond can equally draw you back, and so it is that four-fifths of the original Modern English have recorded their first album together in 30 years.
Funded by PledgeMusic and released via Kartel Music Group, Take Me To The Trees not only reconnect the band to their roots, in the fervent and fecund world of late 1970s/early 1980s post-punk Britain, but they have co-produced it with Martyn Young of Colourbox and M/A/R/R/S fame, whose last production job was 1986. Moreover, the album's beautiful cover is by venerated art director Vaughan Oliver, whose very first sleeve design was Modern English's 'Gathering Dust' single in 1980.
Original members Robbie Grey (vocals), Mick Conroy (bass), Gary McDowell (guitar) and Steven Walker (keyboards) first reunited in 2010, to tour the US, UK and Paris, before accepting an invitation to re-record 'I Melt With You' for Mark Pellington's film of the same name. The band's most famous track was a US Top 50 single in 1984 after being featured in the rom-com film smash Valley Girl following Sire licensing its parent album After The Snow from their UK label 4AD. "It all went haywire from there, in a Beatles and Stones way, with all the trappings that went with it,' Grey recalls.
Given Modern English's roots were post-punk icons Wire and Joy Division – dark and austere while still melodic and passionate – it was strange to be treated like the new Duran Duran, and the band split after the third album, Ricochet Days (1986). "4AD was a family-run label, where we felt taken care of," Grey recalls (he, McDowell and Conroy were part of the first version of 4AD's so-called 'house band' This Mortal Coil, born in 1983 with covers of Modern English songs '16 Days' and 'Gathering Dust'), "and then we entered the shark-infested waters of the mainstream, but business wasn't why we got into music in the first place. It wasn't enjoyable, or creative, but stifling."
Which explains the sense of unfinished business to Take Me To The Trees, a return to the sound and vision of Modern English's debut single 'Drowning Man' (on their own Limp label) and, after becoming just the second band (after Bauhaus) to sign to 4AD, the singles 'Swans On Glass' and 'Gathering Dust' and the debut album Mesh And Lace (1981), of which James Murphy of LCD Soundystem says, "That record is a sneaky secret that everyone writes off, because they just think it's going to be a 'Melt With You' but it sounds way scarier than any Joy Division record."
"Scary", though, was no longer on the agenda, not when Grey and Conroy reformed Modern English for 1990's Pillow Talk album, or when Grey fronted a new version for 1996's Everything's Bad and 2010's Soundtrack. But when Conroy moved from London to Suffolk in 2008, which turned out to be 20 minutes from where Grey lived (when he wasn't spending time at his home on the island of Koh Mak in Thailand), the pair met up and realised what they'd been missing: the original band.
McDowell had also been living in Thailand, though in Pattaya: "party central!" says Grey. "He loves riding his motorbike around. While my thing is beaches and the weather." They hadn't seen each other in over 20 years; no one had seen Walker either, until they all started rehearsing for the 2010 tour. "It was like the intervening years hadn't happened," says Conroy. "And the old songs still sounded as good."
After the tour, they started swopping new ideas, "some from jamming in a room, like we used to do," says Grey. "We looked at each other, just laughing. It was amazing."
Grey vouches for McDowell's guitar style: "Nobody else I know plays like Gary, maybe John McGeoch [Magazine, the Banshees] is closest, all abstract and interesting. It's been hard writing Modern English songs without someone like him." Conroy is equally complimentary about Walker, who'd been working in record retail rather than making music: "Stephen was the non-musician, the Eno of the band, thinking outside the box. Sometimes he'll do something that none of us would have dreamt of."
The final part of the jigsaw was Martyn Young, who Conroy had known since school, while Modern English and Colourbox were peers at 4AD, and had stayed in touch. "Martyn saw us live a few years ago, and said that one new song especially affected him," Conroy recalls. "We said we were recording new material, but it wasn't happening as we'd hoped, and he said, 'sounds like you need a producer…' He'd always said no to us before! Martyn brings an amazing set of ears, and an incredible knowledge of computers and sound. He also understands what we're doing, and didn't try and change us. And who else was going to design the cover but Vaughan? We were so relieved when he also said yes!"
The band's fired-up vitality is palpable in the album's pulsating opener 'You're Corrupt', laced with
Subgenre: Post-Punk
From: London, UK-ENGLAND