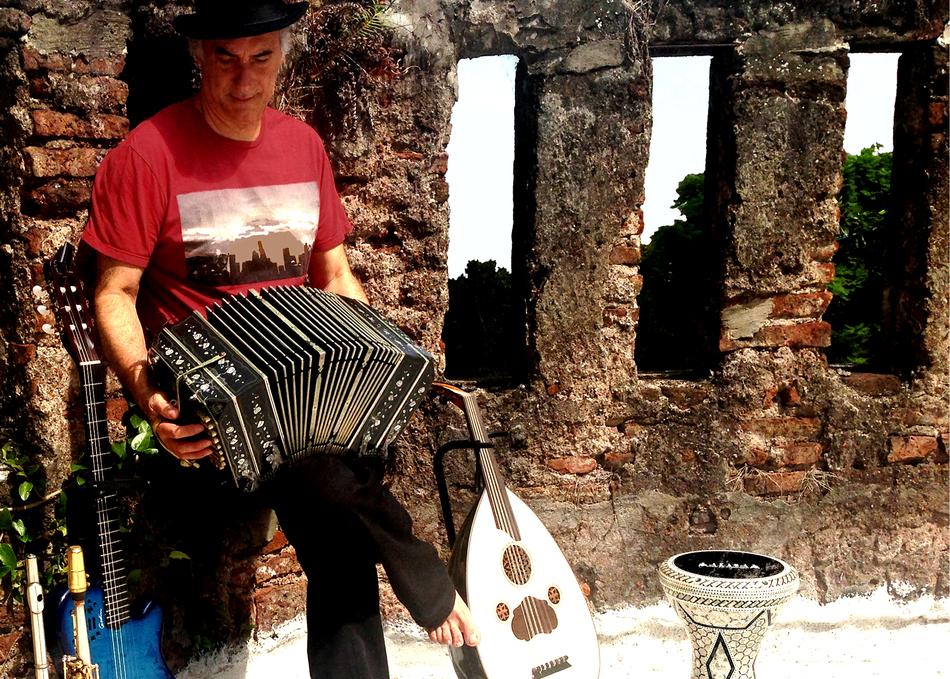 Zona Tango - Southern Tango
Appearing multiple times in SXSW as well as music festivals across the North and South America, Zona Tango showed Buenos Aires the new way to play tango. Lead by fusion pioneer Pedro Menendez, the band proves itself to be one of the leaders of the new sounds in Argentina by blending together tango, electronics, jazz, Argentine folk and bossa nova beyond any traditional limits...
ZONA TANGO:
PEDRO MENENDEZ: COMPOSITION, KEYBOARDS, GUITAR, FLUTE, SOPRANO SAX, OUD, BANDONEON, VOCALS / ELECTRONICS
STEVE ZIRKEL: BASS
BRAD EVILSIZER: DRUMS
FULL BIOGRAPHY:
Zona Tango is the most eclectic musical project of the Argentinian talented composer and virtuous multi-instrumentalist Pedro Menendez (Piano/Guitar/ Winds/Bandoneon).
Wellknown as an avant-gardist of the fusion style in his country, his own and personal composition style can be appreciated throughout his vast discography and a long career of national and international live performances in Argentina, Brazil, US, Canada & China.
Year 2004 -
After a long stay in Europe, Pedro Menendez came back to Buenos Aires with new interesting views and the need to experiment.
At that moment he joined talented, expressive bandoneonist Oscar Fasanelli together with Maurice Lvar on Electronics and the first CD of ZONA TANGO was released: ELECTRONICO (2004).
ELECTRONICO, the Album, managed to create an alternative space inside the emerging electrotango genre with an unique virtuous style that went beyond a simple fusion of modern tango and electronic sounds and added other elements like jazz and contemporary classical music.
In June 2006, BRAZILTANGO, the second discographic work of ZONA TANGO, brought to the world the innovative idea of blending two opposite styles. Nostalgia of tango, joy and warmth of bossa were divinely reflected in nine original compositions and two personal arrangements of the wellknown songs Adios Nonino (Astor Piazzolla) and Corcovado (Antonio Carlos Jobim).
PSICODELIA TANGO (2010), the 3th CD of ZONA TANGO, came to captivate once again the audiences: new solid melodies melting into a hint of psychedelic ingredients, electronic sounds and tango inflections.
"ELECTRO PAMPA" is one of the recents projects of ZONA TANGO, an experimental, urban meticulous work... "Robotic evocations of a very cosmopolitan Argentine Pampa"
"ORIENTAL TANGO" (coming release - March 2017) is the new coming work of Zona Tango... a dazzling mix of roots unlike any other created before..
International Performances (Tour US / Canada 2016, 2013, 2012, 2010, 2009, 2008):
SXSW 2017
Tour SXSW MUSIC FESTIVAL 2016
Tour Austin, TX, US 2013
Tour SXSW MUSIC FESTIVAL 2012
Tour SXSW MUSIC FESTIVAL 2010
Tour SXSW MUSIC FESTIVAL 2008
DART MUSIC INTERNATIONAL Events (2013, 2012, 2009)
RUM & RIDDIMS - WORLBEAT INTERNATIONAL PARTY 2012
BRASIL, MUSICA , ARTES & INTERNATIONAL GUESTS (SXSW 2009)
RHIZOME COLLECTIVE INTERNATIONAL SHOW (2008)
LATIN/ RADIO SHOW HORIZONTES AUSTIN, KUT FM (Live recorded concert, 2008).
In their country, ZONA TANGO performed in many local and international events including BAFIM (BUENOS AIRES INTERNATIONAL MUSIC FAIR 2013, 2009), Ceasar Park, Buquebus, Puerto Salguero, Contemporaneo Art Music Concert Series, among numerous others.
Compilation CDs:
"BEST HITS FOR YOU / TANGO" (Track "ADIOS ASTOR") / 2016 (Magic Records)
"TANGO A-GO-GO" (Track "OPERACION TANGO") / 2014 (Copeland International Arts)
"BUENOS AIRES / PARIS: THE ELECTRONIC TANGO ANTHOLOGY 3" (Track "TODOS BAILAN TANGO") (Music Brokers)
"BUENOS AIRES / PARIS: THE ELECTRONIC TANGO ANTHOLOGY 2" (Track "TANGOSTOSO") (Music Brokers)
The Austin Chronicle said:
"Sultry, smooth, and unlike anything you're likely to hear beyond the streets of Buenos Aires..." SXSW 2012
"Led by tango pioneer Pedro Menéndez, Z-Tango's psychedelically inclined Psicodelia Tango finds the veteran trio continuing to blend electronic, jazz, and traditional styles. Menéndez, a galvanizing force in Buenos Aires, at Austin's favorite underground jazz club should be required listening for anybody with a passing interest in tango's evolution." The Austin Chronicle, SXSW 2
'If you were lucky enough to be at the Elephant Room for the U.S. premiere of Zona Tango, then you know that all electronic music is not created equal. Blood ties between Spain, France, and Argentina are often difficult to tease out in the contemporary world, but a spin through the back catalog of this Buenos Aires trio offered a glimpse into the promise that taped music holds for keeping old styles alive. By Dan OKO, The Austin Chronicle, SXSW 2008
Subgenre: Electronic
From: Buenos Aires, ARGENTINA