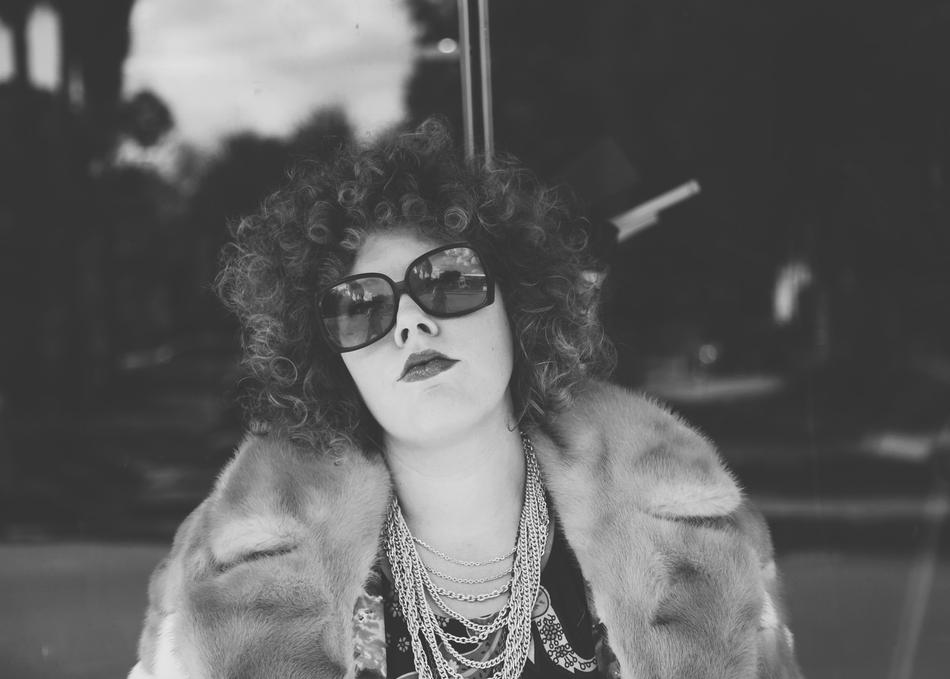 Bonnie Whitmore - Cinderella
About Bonnie Whitmore
Bonnie Whitmore doesn't shy away from a difficult conversation. Instead, the gutsy singer, songwriter and bassist spins her perspective into a gorgeous aural web that pushes boundaries and promotes dialogue. The sometimes-Americana, sometimes-pop musician turns feminist frustration into rock this go-round with the release of her ambitious third album, Fuck With Sad Girls.
Recorded at Austin's Ramble Creek by the masterful Britton Beisenherz, the daring 2016 fall drop contains 10 powerful tracks that collectively tell a story and, in one way or another, boldly address the stigma placed on "imperfect" women.
"Who wants to fuck a sad girl?" Whitmore poses this rhetorical question and expands on it in a May 2016 episode of Johnny Goudie's How Did I Get Here? podcast. "[Society says] you have to be pretty and looked at. You have to absorb the whistles and the objectifying or you'll be ignored because you're ugly or sad." It's not about feigning happiness, she says; it's about accepting what is and loving others through it.
Whitmore's own experiences with catcalling, abuse and depression color the album's narrative, though she keeps the details close to her vest. "[This album] is about empathizing with one another," she explains. "Can I point out something that's awkward so we can bond over it, laugh about it and get past it?"
Though the topic may sound heavy, the album is far from it. Whitmore pulled out the big guns for this raucous, fuzz-tinged record. She used eight basses across the 10 tracks, including two of her own: a Jack Casady Epiphone and an EB3-style Electra circa the early '70s. She also signed on a trio of talented musicians -- guitarist Scott Davis (Band of Heathens, Hayes Carll), drummer Craig Bagby (Sherman, Colin Herring) and keyboardist Jared Hall (Velvet Underground, Colin Gilmore).
A successful PledgeMusic campaign fueled the recording of Fuck With Sad Girls, as well as the complementary concept album dubbed Coyotes: Life and After Life, which is available exclusively to pledge supporters via digital download or vinyl. Whitmore collaborated with artist/producer Juicy the Emissary and engineer Steve Christensen to create a unique sonic experience. Whitmore and a guitar comprise the simpler Side A ("Life"), while Side B ("After Life") showcases Juicy's electronic R&B interpretation of the same songs.
The latest effort builds on an already impressive musical career. Whitmore's solo debut, Embers to Ashes, surfaced with a vengeance in 2010. The breakup-inspired set was "something I needed to do to get through that time," Whitmore says. "I had a lot of anger. I think I murdered him [ex-fiancé] a few times on that record." The whiskey-soaked collection traces the emotional arc of a slowly disintegrating relationship, conjuring up comparisons to Loretta Lynn, Neko Case and Miranda Lambert.
And then came her 2013 sophomore record, There I Go Again. More honed and less emotional, the second release celebrates both success and failure. It also has Whitmore skirting the comfort of roots music and playfully dipping her toe into pop similar to one of her idols, iconic rocker Tom Petty. "He makes these amazingly awesome pop songs but is also able to keep them within the lines," Whitmore mentions. "You could hear how beautiful the melodies are beyond the grit of rock and roll."
Whitmore's lineage is ripe with musical influence. She grew up steeped in country music, touring alongside her parents, Alex and Martha Whitmore, and older sister Eleanor (now one-half of alt-country outfit The Mastersons with husband Chris Masterson) beginning at eight years old. Daddy & the Divas featured a vivacious young Bonnie on bass and Eleanor on violin, both belting out their share of tunes. Whitmore's father, who was a professional pilot, would fly the family to gigs at remote Texas bars and crowded festivals.
Today's Bonnie Whitmore is no longer the curly headed little girl covering classic country songs. She's evolved into a lyrical powerhouse (and fellow pilot) who is comfortable with vulnerability and unafraid of stirring the proverbial pot. Her voice still booms, only now with well-earned self-assurance and an inherent urge to right the world's wrongs.
"You get to choose what you want to be, and be comfortable with that," Whitmore says of this new, anthemic album's overarching takeaway. "You can exist in this world."
Subgenre: Alt Country
From: Austin, TX