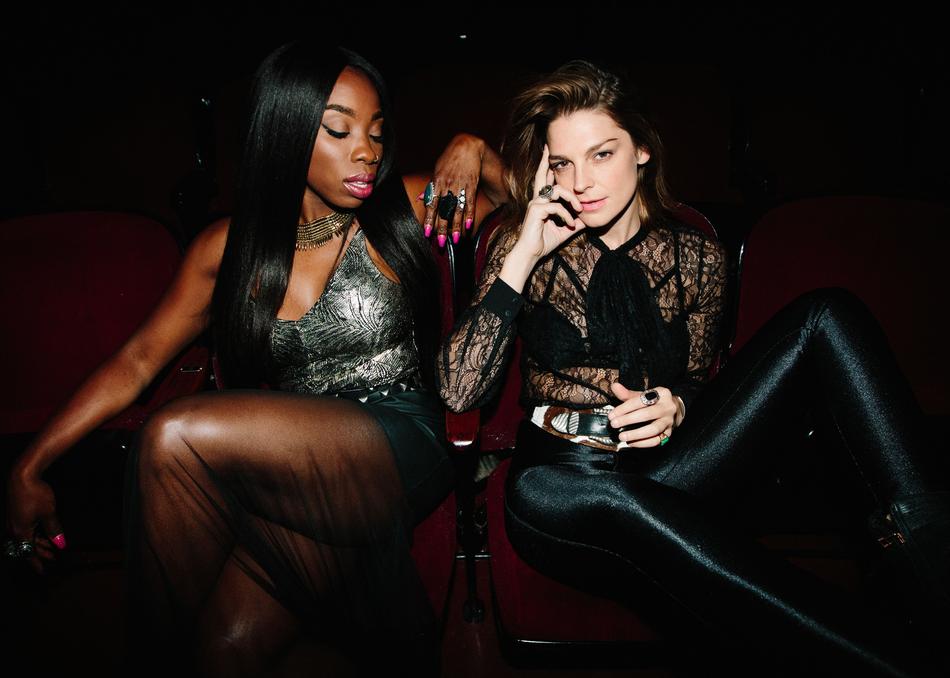 credit: Mary Caroline Russell
Muddy Magnolias - Devil's Teeth
American music is a mile-wide river that beckons black and white, urban and rural, dreamer and doer alike to launch their vessels. All the streams of style and genre flow into it; its tributaries are blues and jazz, mountain and folk, rock, soul and R&B.
The release of the debut album by Muddy Magnolias, Broken People, marks the launch of a great new vessel onto that waterway. The album showcases a confluence of style and sound as colorful as it is unlikely, steeped in that river of influence, yet bracingly fresh.
With Broken People, Jessy Wilson and Kallie North take us on an 11-song journey with its origins in two widely divergent backgrounds that came together in a friendship and creative partnership with world-changing resonance.
North was raised in southeast Texas and began singing with her family and studying piano at an early age. She grew to love rich vocal harmonies singing in church choirs and listening to artists like the Carpenters, Alison Krauss, James Taylor and the Eagles. By her early teens, she was singing lead parts in church and in musical theater productions at her high school. Her palette grew when a friend turned her on to the Grateful Dead, and after high school she spent every spare moment in the clubs of Austin, absorbing everything from alt-country and jam bands to New Orleans funk. She met her husband at a concert and moved with him to his native Mississippi. There, on their isolated farm, she had her awakening, starting a career as a photographer, capturing the spirited, deep history of the Mississippi Delta.
"To me, the Delta is the most overlooked and mysterious place," she says. "It was the birthplace of America's music, and all the legends were influenced by everything that came out of it. I went on this personal exploration to learn about the Delta blues and the region's history. I picked up a camera and started taking pictures, blogging about what I was experiencing, and I tapped into all the creative energy lying dormant inside me." When her husband gave her a guitar, she began spending her days on the porch of their farm learning how to connect her first chords. From there, the songs began pouring out and she knew she had to find a way to get to Nashville and write songs professionally.
Wilson, raised in Brooklyn, was in love with music from her earliest days. She was singing before she could talk, and was 5 when her mother recognized her passion for music. "I would cry because I couldn't hit the high notes in Whitney Houston and Mariah Carey songs," she says. Influenced by greats from Aretha and Smokey Robinson to Lauryn Hill, Mary J. Blige and The Notorious B.I.G., she began auditioning in the highly competitive New York entertainment scene and was working professionally in musical theater by the age of 10. Her mother took her to nightclubs where she experienced a variety of live performances. She attended New York's top performing arts schools, including La Guardia High School, the "Fame" school, where she discovered her love for gospel music and took part in the gospel chorus for four years. She worked at Cafe Wha? in Greenwich Village, making $500 a weekend while still in high school.
She sang backup for Alicia Keys in her teens, then worked four years with John Legend, and through him with legends like will.i.am, Kanye West, Raphael Saadiq and Babyface. Legend mentored her in songwriting and recording before she began writing songs on her own for American Idol winner Fantasia Barrino and others. Inspired by her evolving love of songwriting, she too moved to Nashville, looking for a wider creative palette. There, while meeting with then-BMI executive Clay Bradley, her eye settled on a photograph of "a rundown juke joint piano" in his office.
"I want to meet whoever took that photo," she said. The photographer was North—it had been taken during her creative awakening in Mississippi—and the subsequent meeting led quickly to collaboration and an epic friendship.
And that is the magic and the message. The music of Muddy Magnolias, live and on record, comes from a place where the Mississippi meets the A-Train by way of Nashville. Whether yours is the back porch or the front stoop, Spanish moss or window box garden, dusty country lane or crowded subway car, rural honky-tonk or uptown club, this is music that beckons. Muddy Magnolias are collaboration without boundaries, musical healing in a landscape of the heart, and all of us who treasure creative energy, honest art and the possibilities of love and unity, are better for their arrival.
Subgenre: Soul
From: Nashville, TN