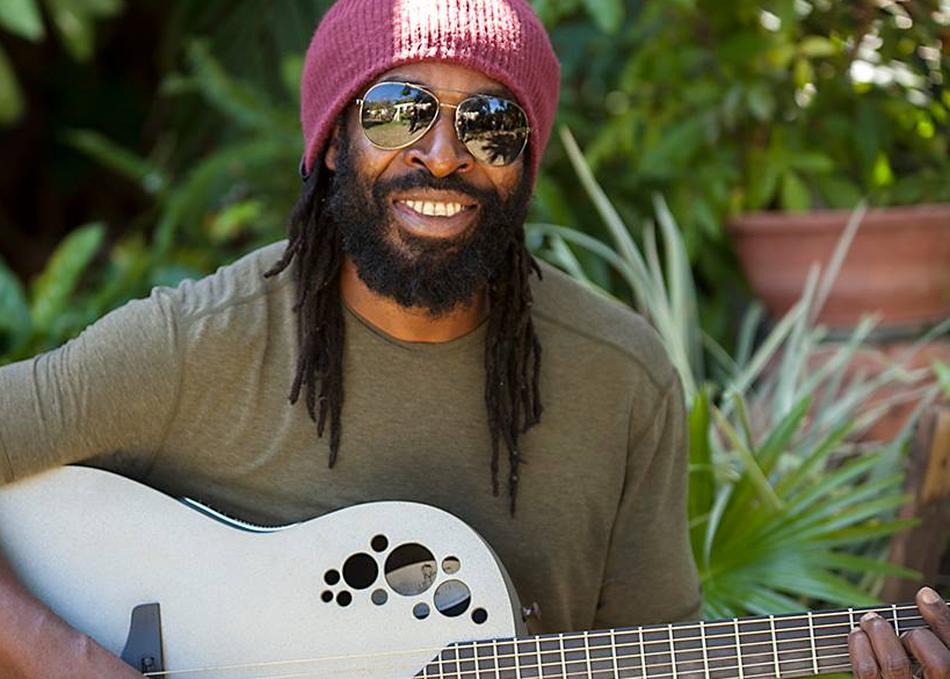 i-taweh - Never Fade Away
Donavan 'I-taweh' Cunningham was born in the lush rolling hills of St. Ann, Jamaica, to Rupert and Ruby Cunningham. Like many Jamaican artists, he came from humble beginnings. He was raised in the farming community known as Prickly Pole just a few miles from the childhood home of Bob Marley. I-taweh spent most of his early years farming alongside his father and four siblings, and it was there as a young child he learned to play music on handmade instruments crafted from bamboo and sardine tins.
Recognizing I-taweh's love for music, his sister and mother saved enough money to buy his first guitar. When it was time to attend high school, he moved from the countryside to St. Ann's Bay, where he lived on the same street as Burning Spear and enlisted in the Ocho Rios High School band. After coming in second in the All Schools Music Competition, I-taweh gained confidence that led him to move to Kingston to pursue his love of music.
I-Taweh was rarely seen without his guitar. He was given the nickname, "Danny Gitz", and gained the reputation as an outstanding guitarist. He attracted the attention of the legendary producer, songwriter and singer, Sugar Minott who took him under his wings, and he eventually became Sugar's band leader. I-taweh credits Sugar for making him the musician he is today.
In 1994, I-taweh joined the band High Symbol and traveled to Australia. It was at that time that he began singing lead vocals and gained the confidence to become a front man. In 1998, he became the youngest member of Count Ossie's original Nyabinghi group, Mystic Revelation of Rastafari, and toured Europe with them extensively until 2007. The Mystic Revelation of Rastafari were well known for their presentation of traditional Jamaican music and workshops. While in France, he collaborated with the reggae group, Broussai, which led to recording sessions for tracks later used on his album "Overload".
Not only was I-taweh in demand for live performances, his incredible versatility and precision on guitar and bass kept him busy in the recording studios. He recorded with artists such as Sade, Capleton, Morgan Heritage, Sugar Minott, Luciano, Lenky Roy, and Iqulah.
As the guitarist for Everton Blender's band Blend Dem, he traveled to the U.S.A. and went on to work as the bassist for the Yellow Wall Dub Squad, a major backing band for Jamaican artists in the U.S.A. Billed as "Itawe", and often referred to as the Reggae Lion, he quickly gained popularity as the singing bassist, opening for artists such as Sister Carol, Prezident Brown, the Abyssinians, Yami Bolo, Half Pint, the Mighty Diamonds, and the Melodians.
In 2009, after 17 years of being a supporting musician, I-taweh took a hiatus from the road to pursue his career as a solo recording artist. In 2011, he released his independently composed, written, and produced debut album "Overload" under his label Tap Nat Muzik. In December 2011, I-taweh performed songs from Overload at his album launch party at Wickie Wackie in Bull Bay, Jamaica. He formed the band Reggae Lions for the launch enlisting veterans Nambo Robinson on trombone, Everton Gayle on saxophone and Time, aka Count Ossie Jr. on percussion.
Selections from the Overload album have received significant airplay on stations in Jamaica. The single "Overload" was a 2011-2012 hit, reaching #1 on the Hot 102 FM chart. In the U.S.A. the album has been very well-received at traditional reggae radio, college and syndicated programs. Overload was selected as part of the Direct TV cable network's menu of reggae for regular rotation.
I-taweh continues to tour, captivating audiences with emotionally moving lyrics, confident stage presence, and precision talent. His unique and original sound stems from his authentic Jamaican roots combined with inspirations from expansive travels abroad. His music is diverse, reflecting his passion for human rights and social justice. Whether performing acoustic guitar, with a stand-up bass, or on regular bass with his full ten piece band, I-taweh wins the hearts of listeners everywhere, continuously leaving his audience wanting more.
I-taweh offers a cool refresh on roots reggae music best described as timely, updated and professionally delivered. His future shines bright as demonstrated by the consistently growing audience and fan base at home and abroad.
Be sure not to miss the release of I-taweh's second album "JUDGEMENT" scheduled for February 2017. The first two singles and music videos from "JUDGEMENT" are "Never Fade Away" and "Herb Treez".
www.i-taweh.com
https://www.facebook.com/tapnatmuzik/
Subgenre: Acoustic
From: Kingston, JAMAICA