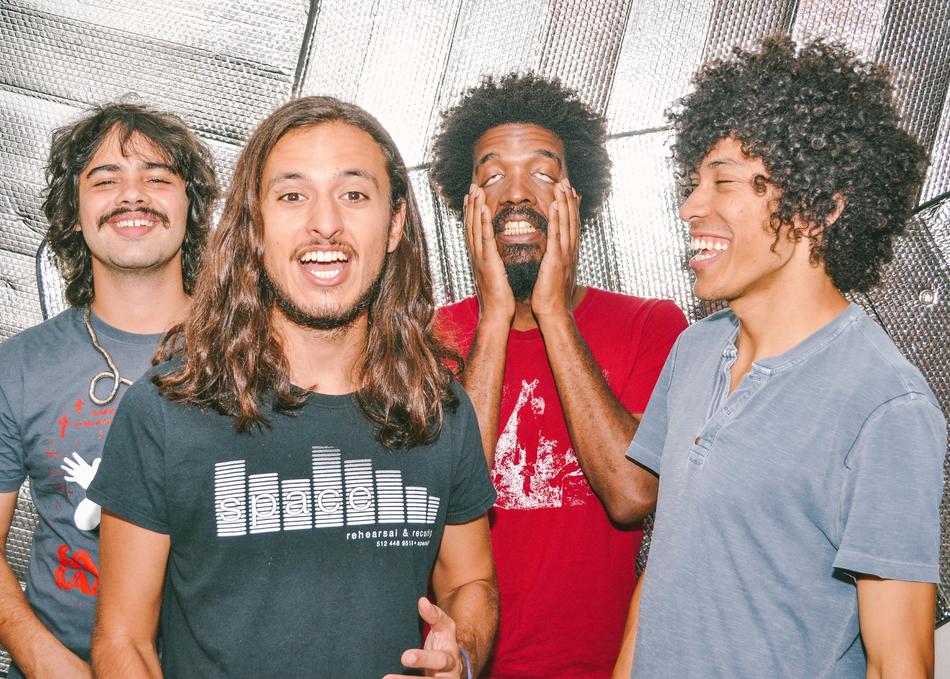 credit: Photo by Beatriz Perini
Boogarins - Olhos
Boogarins return to North America on the heels of a Latin Grammy nomination, heralding a West Coast tour in February with Desvio Onírico (LIVE 2016) – a collection of 4 extended live tracks culled from their extensive worldwide tour last year, weighing in at 43 minutes long. The live captures, mixed personally by the band, covers performances from Vancouver (LEVITATION), Lisbon (Rock in Rio), North Carolina (Bailey Park) and an improvised jam from their residence in Austin, where the band was recently announced as featured performers in the upcoming 2017 SXSW Music Festival.
Boogarins' Fernando "Dino" Almeida and Benke Ferraz began playing music together as teenagers in the central Brazilian city of Goiânia – creating psychedelic pop in their parents' gardens, filtering their country's rich musical history through a very modern lens. By the time the group's home-recorded debut LP, As Plantas Que Curam (2013), was released worldwide, the band had recruited a proper rhythm section and were developing a name around Goiânia. Soon after, the group was booking regular gigs in São Paulo and across the country. Ultimately, with glowing praise from critics abroad (Chicago Tribune #9 Album of 2013) and a growing international audience, 2014 saw Boogarins circling the globe continually – headlining clubs and playing festivals from Austin to London, Paris to Madrid, New York to San Francisco, Santiago to Mexico City, playing alongside many great artists around the world.
The band's latest studio album, MANUAL (2015) — nominated for a Latin Grammy (Best Rock Album, Portuguese Language) — was launched in London, inspiring MOJO Magazine to award the group its MOJO Rising distinction. With bassist Raphael Vaz and drummer Ynaiã Benthroldo on board, the four have been recording at Austin's SPACE studios and in Brazil for the last several months, and recently independently released a surprise breakout single – 'Elogio a Instituição do Cinismo' or 'Praise the Institution of Cynicism' upon the closing of their former label's brick and mortar shop. The band now emerge as free agents in an ever-changing music industry landscape. MOJOMagazine invited the group to record a selection for a cover compilation of Kink's classic 'Something Else' on the CD for the March 2017 issue, currently in stores in the UK.
Previous Press
Vinyl Me, Please – Top 10 Best Albums for a Lazy Sunday – "If you don't speak Portuguese, you're not going to understand many of the lyrics, but that doesn't matter. Manual, by Brazilian psych band Boogarins, is the perfect combination of reverb and melody to put you into a state of calm on a Sunday. If you wish your OJ was a mai-tai, then this is the record for your Sunday afternoon." – Shannon Byrne, Vinyl Me, Please, January 2017
MOJO Rising! "Brazilian Boogarins subtly update the Tropicália template by taking in acid-fried indie rock on MANUAL." – Mojo Magazine, February 2016
"There is a Brazilian psychedelic-rock tradition, for sure. But Boogarins doesn't sound beholden to the documents of it. It's not a band of formalists doing homage work… "Manual" connect(s) generally to plenty of things: to the Beatles' "Tomorrow Never Knows," recorded nearly exactly 50 years ago, and then to early Pink Floyd, and out into 1990s postrock and the current international neo-psychedelic map of bands like Dungen and Temples." – Ben Ratliff, The New York Times, April 2016
"Boogarins have blossomed into a worldwide force beyond their native Brazil." – Rudi Greenberg, The Washington Post, July 2016
Subgenre: Psychedelic
From: Goiânia, BRAZIL