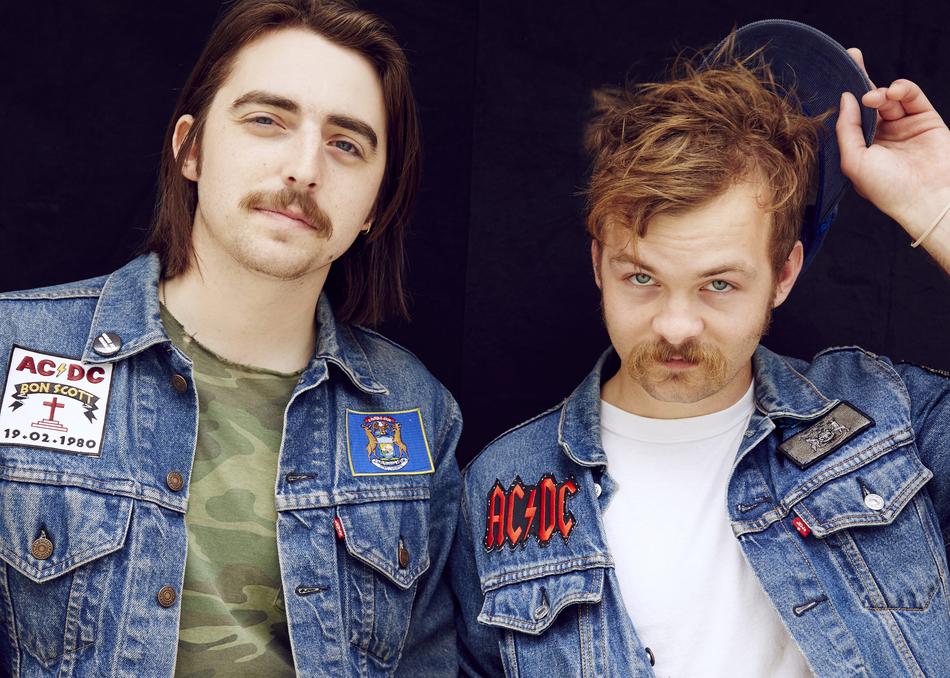 credit: Shelby Goldestein
Michigan Rattlers - Last Week
-MICHIGAN RATTLERS-
Upholding a time-honored songwriting tradition, Michigan Rattlers recount human stories through a soundtrack of Americana punctuated by countrified rock 'n' roll and folk. The subjects of their 2016 self-titled debut EP practically live and breathe between Graham Young's rustling guitar and Adam Reed's percussive upright bass. Born in Petoskey, MI and based in Los Angeles, the duo's music plays out like a film.
"All of my favorite songs tell stories," says Graham. "It's the most important part. They're about people trying
to overcome life's obstacles. That's what it always comes back to."
Lifelong friends Graham and Adam began writing music and performing together in their Northern Michigan
high school. Residing in a quiet tourist town of 6,000 located on the banks of Lake Michigan, the pair regularly played every bar, café, and stage in town, developing an inimitable musical chemistry informed by the likes of
AC/DC, Chet Atkins, Eric Clapton, Creedence Clearwater Revival, and more. Adam headed to Ohio for college as Graham went to Illinois, but upon graduating, Graham beckoned Adam to move out to Los Angeles so they could start a band. A four-day cross-country road trip gave birth to Michigan Rattlers.
"We had been in bands together for a long time, so we knew what we wanted to do," Adam explains. "I was going to play upright bass, and we were going to do a project with just the two of us. We wanted to be lean and mean
on tour. As soon as Graham called, I went for it. If you get a music degree, you might as well play music!"
Settling down in Los Angeles, the boys recorded a short demo and began playing locally. The demo found its way into the hands of super producer Johnny K [Plain White T's, 3 Doors Down], and they cut the bulk of their first EP at NRG Studios in just one day.
"My favorite music is recorded that way," continues Adam. "You get in a room, plug in, and cut as many songs as you can live."
The first single, "Illinois Sky," rolls from an energetic acoustic guitar into an expansive refrain that's immediate and infectious, following "Midwestern boys out on our own headed for a life of treasure."
"I started writing it when I was living in Chicago, and I finished it when I got to L.A.," recalls Graham. "It was something I'd been working on for a while. It sort of covers the journey. It's really sad, but it's also upbeat. I look at it as a love letter to living in Chicago and that time. You've got the image."
Culminating on a lyrical guitar lead, "Sweet Diane" weaves a narrative of newfound love in the aftermath of loss driven by Graham's robust delivery. "That was totally fiction," he continues. "It's a straightforward story. A guy knows this girl. The girl lost her husband. He gets the courage to ask her out from there."
"Strain of Cancer" recounts a heartbreaking tale he witnessed firsthand. "I used to work at Starbucks, and I wrote it about this guy I worked with," he goes on. "He had a kid with this girl. Things didn't work out. He only saw his son twice a month or something. He was always meeting with his lawyer about child support. He was just losing everything. It was a horrible situation. I felt for the guy. I thought about him and put it into song."
As for their moniker? It's a name that lets you in on where they're from and who they are. "A Michigan Rattler is an actual snake," Adam explains. "There aren't a lot of them, and they're hard to find." As the duo gets ready to share their tales with the world, listeners far and wide will soon find that like the elusive reptile, a sound like theirs is hard to find.
###
Subgenre: Alt Country
From: Los Angeles, CA