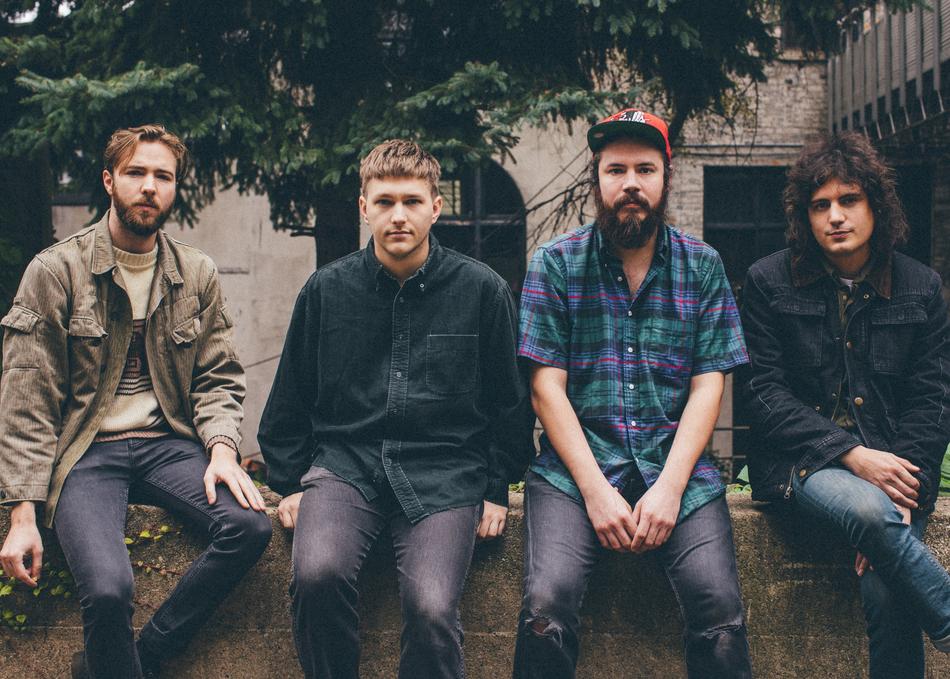 Emerging from underground venues in Chicago's Northwest side, NE-HI made its name on both its live energy and cleverly wrought guitar anthems. On its second album Offers (Grand Jury), the band takes those basement-forged instincts and refines them, lets its guitars explore new angles, and focuses its songwriting. The result is, we daresay, a stunner if not a statement that there are a wide range of post-punk possibilities yet to be explored. But for NE-HI, finding its way from the cellar to the main stage was a true challenge.
It all started at Animal Kingdom, a flash-in-the-pan DIY basement in Chicago's Logan Square. There, in the summer of 2013, three friends from college, Jason Balla (guitar/vocals), Mikey Wells (guitar/vocals) and James Weir (bass) linked up with drummer Alex Otake to score a buddy's film and decided to start bashing around together as NE-HI. Animal Kingdom gave the new quartet a place and a crowd to write songs for. As Balla says, "That venue was the jumping off point for being able to play music in front of people."
With yet another garage rock revival in full bloom at the time, NE-HI tapped into what Balla calls the scene's "wild, young energy," playing go-for-broke at its home base. But quickly the band's disparate influences--Wire's post-punk, Springsteen's everyman anthems, along with echoes of dreamy atmospheres of Dave Roback's Rain Parade and the jangly buzz of Kiwi pop legends The Clean--began burning through. NE-HI's more ambitious sound and heady arrangements broke away from garage rock's back-to-basic's approach. The band attracted the attention of Dave Vettraino, who asked NE-HI to record at his Public House Recordings studio for posting on his website. Vettraino would go on to record the band's debut album.
By April 2014, the band had released its self-titled debut on the Manic Static label and bandcamp while heading local bills at Chicago rock clubs like the Empty Bottle. A showcase for Public House at the Burlington sold out. DIY tours followed in which the band discovered a whole world of Animal Kingdom-type spaces across the country. The Chicago Tribune's Greg Kot gave the debut the #4 spot in his 2014 year-end list.
While NE-HI reveled in conquering basements across our fair land and debuted its video for "Turncoat" on Noisey, two things happened in 2015. One: it actually heard its songs in proper club sound systems regularly. Supporting slots for the likes of the Black Lips in Chicago gave way to touring opportunities with breakout acts Car Seat Headrest and Chicago brethren Twin Peaks. On the road, the band could hear how differently its songs played out in clubs and larger halls and how important it was to be confident in its material and performance. It was time to up its game.
Two: Rising standards can lead to writer's block. Typically, Balla and Wells, the son of a Wisconsin radio deejay, brought riffs and melodies to the band, which would work out songs through extensive jamming. The band's distinctive vocals are evenly split between the dual frontmen. The band wondered if its latest batch of casually written tunes would measure up to its new ambitions. How do you follow up a debut, the sound of summer and its endless possibilities, when suddenly everyone's paying more attention? As Balla explains "Making this record became about the struggle to figure out what we actually wanted. We have the opportunity to say something, what is that going to be?"
Offers is NE-HI finding that rising to the occasion means living up to your own standards, not someone else's. The band entered Chicago's Minbal studio in January 2016 to record ten songs with Vettraino engineering, but scrapped most of the session. To finish the record, the group needed to tap into the sense of wild abandon that set it on a course in the first place. It had to get somewhere new, without forgetting the spirit of the journey in the first place. NE-HI went back to touring, writing, rewriting and returned to Minbal in March more solid than ever. It recorded most of Offers live at Minbal to capture the energy--only overdubbing vocals.
Offers drones, it captivates with soaring pop, it shimmers with atmosphere, always changing, looking. The album veers from the staccato pop of "Palm of Hand" (which nods to Chicago's Disappears) to the jangly pleasures of "Stay Young." The off-kilter, ultra-catchy "Sisters" refines the carefree feeling of the band's debut--picking up the spirit of New Zealand pop. Title track "Offers" feels like a slight departure, the band pushing its most abstract and unpredictable instincts. On "Prove" the band's post-punk guitars come at blistering tempo, it's the band's most athletic moment yet. While the punchy drawl of "Buried on the Moon" conjures a less sleepy early R.E.M. or Let's Active.
Offers finds the distant influence of forebears in cerebral guitar pop presented with a familiarity that typifies great FM rock hits. The Midwestern boys (two from Chicago, one from Wisco
Subgenre: Lo-Fi
From: Chicago, IL