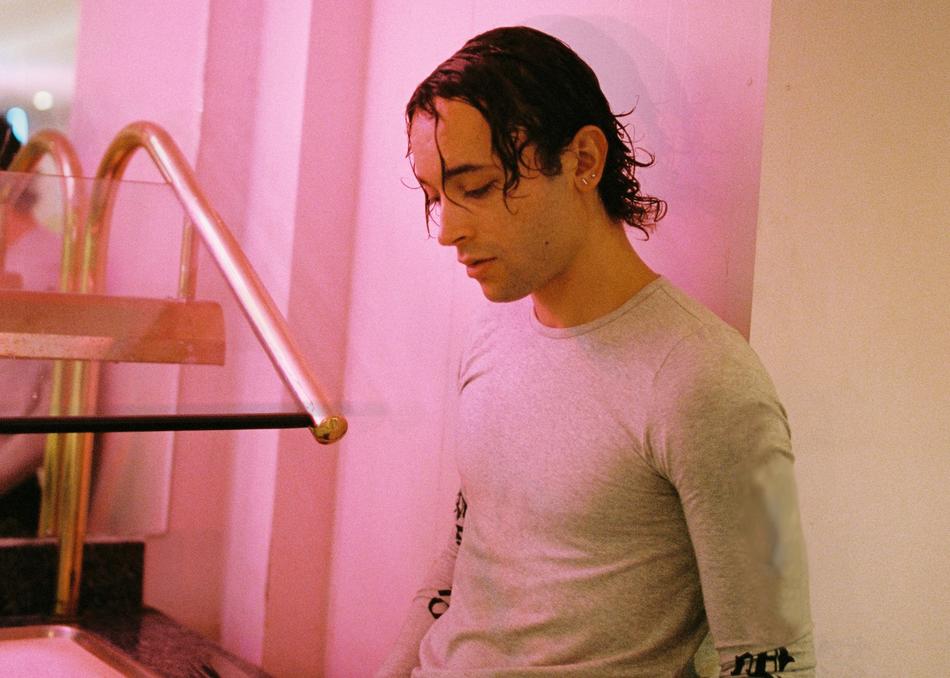 Oscar Key Sung - Hands
Oscar Key Sung is something ecstatic and undone, a sound that winds simultaneously through RnB's golden past and pop's near future. "It's a bit of a mess" Oscar smiles. "I suppose I'm just a part of this generation of over-saturation, where it's easy to be as influenced Arvo Pärt as you are by Drake."  Oscar Key Sung embraces and transmits a kind of duality.
His celebrated debut EP Holograms swells between rasping, arctic percussion and vocals that seem drawn from his body on a single breath.  Increasingly the music of Oscar Key Sung sways between emotional ferment and physical movement, a captured catharsis that has certainly found its fans. Hologram's preceding singles 'It's Coming' and 'Sure Thing' received national radio rotation in Australia and earned Oscar both praise and airtime from legendary BBC Radio 6 presenter Gilles Peterson. But this musical polarity hasn't just been invoked for his newest material. Before he became known as one of Australia's most unique producers and one of Melbourne's most vital voices, before his fêted collaborations and early acclaim, Oscar Key Sung was already treading slightly stranger paths.  "Actually I really started performing at age 5 in my uncle's art/punk band" he shrugs. But it was in his early 20s, playing in bands and studying sound design, where Oscar truly began to unearth the sonic elements that would become the foundations of Oscar Key Sung. "I learned to reapproach composition, sometimes I'd just be working with two sine waves, stripping it right back to the building blocks." This new, starker approach became instantly evident in his successive work, a sound that since his first release in 2011 has been further dismantled, as he pushes synchronously rawer vocal deliveries and deeper into the dancefloor.  "I always wanted to make more hi-fidelity music, for clubs, rooms dedicated to listening and movement" Oscar nods. "I wanted to hand over more of myself." And after touring clubs and festivals in Europe, Japan, the US and nationally, he's been doing just that—But his relationship with other musicians goes far deeper than live performance. Notably in 2013, Oscar was hand-picked by Mercury Music Prize-nominated mc Ghostpoet and Brooklyn-based artist MeLo-X for their MELOGHOST project. "My collaborations are mostly extensions of my friendships, I get musically attracted to people," he says, naming some of his key collaborators—Andras, Banoffee, Cassius Select— as some of his closest friends. These collaborations have allowed Oscar Key Sung's music to fray further into different styles of house, pop and even dance music that borders on the savage.
In 2015 Oscar confidently solidified the hype and critical acclaim surrounding his previous endeavours with a new EP and string of UK support dates. His second EP Altruism brought the powerhouse vocal and production marriage that fans and critics adored from previous releases. Filled with radio ear candy and experimental electronica, Altruism demonstrated a cohesion and progression in Oscar's unique explorative world. The signatures of Key Sung— its panoptic production and lyrical exposition— are underscored on Altruism, deepening Key Sung's sense of conflict; its glacial beauty and modern dread.  "Key Sung is locked in tension" Oscar says finally, "but that's what makes it work."
Key Sung's diligence in maintaining a captivating and high quality output was met with a UK support tour alongside London 3-piece and 2015 BBC British Artist of the Year nominees - Years & Years. The tour would prove to legitimise Oscar Key Sung's swelling Australian profile into a realm of international accolades and success. 
Subgenre: R & B
From: Melbourne, VIC, AUSTRALIA