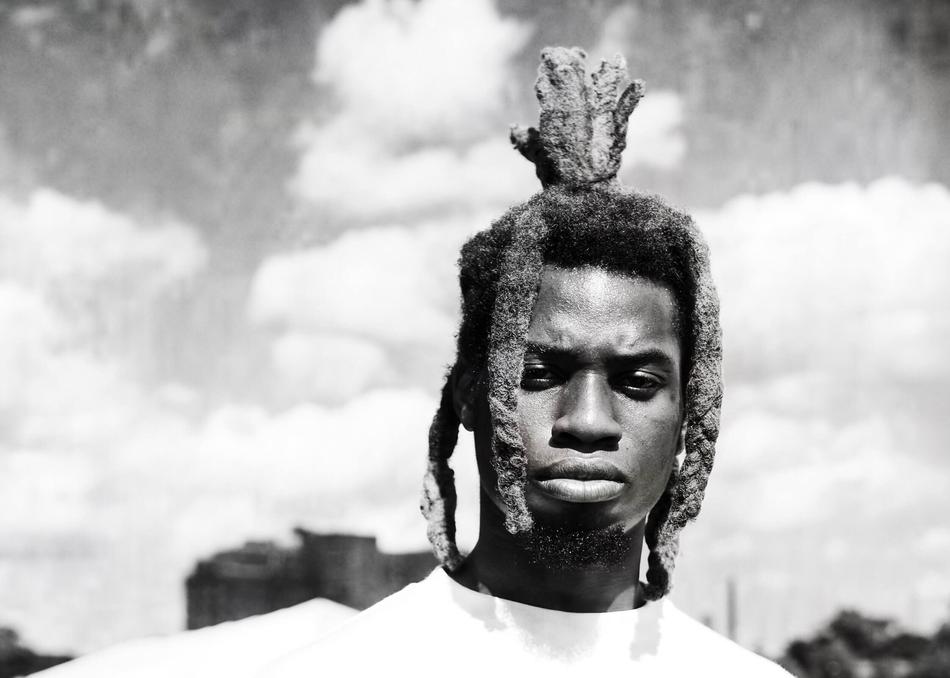 "How personal do you wanna get?" Denzel Curry, the 21-year-old rapper from Carol City, Florida, isn't one to sidestep the hard questions. Having recently emerged as one of the underground's most vibrant young talents--and one of its best candidates for breakthrough success in the mainstream--it would be understandable if Curry had absorbed some media training classes, or if he had handlers peering over his shoulder, making sure he stays on message. Instead, when asked to talk about the events in his past that shaped his psychological development, the 2016 XXL Freshman circles back to a familiar topic: death.
There was the moment when, at 16, Curry was witness to a shooting inside a McDonalds ("Something was telling me, 'Denzel, get your food and get the fuck outta there'") and ran into the shooter the following day at school--the same high school Trayvon Martin attended. Or there was the incident in 2014, when his older brother, Treon Johnson, died after being Tasered, pepper sprayed, and taken into custody by police in Miami-Dade County. His grandmother died the same week. "I think about death a lot," Denzel says. "The thought of it doesn't scare me, but when it actually gets down to it, I always think about what's gonna happen: Will I fold? Will I cry? Will I scream? Will I be silent--will I just accept it?"
Unlike other artists who are fixated on the morbid, Curry's music isn't sprawling or indulgent, trite or aphoristic. Instead, his acute sense for the less savory parts of his life has manifested in hip-hop that's laser-focused, that sounds steeped in the headier approaches of the genre's greatest technicians yet remains distinctly Southern. Originally a member of the SpaceGhostPurrp-founded collective Raider Klan, Curry quickly distinguished himself as one of the network's sharpest pens. The collective writ large was noted for reviving flows and production motifs that had been popular elsewhere in the South--particularly in Memphis--during the '90s, but Denzel also cited influences like Nas and MF DOOM; he can recount in detail the time he first heard Lupe Fiasco's "Kick Push" on the radio and asked his mom for Food & Liquor.
In an era where the divide between old and new seems to be growing wider by the week, Curry refuses to be swayed by fickle trends. Some new artists reject the genre's pioneers, while others cling too tightly to the past; Denzel prefers to break down those barriers. His point of view is inextricable from his Southern roots, but he incorporates pieces of every region, every time period. He's an artist who rises above his surroundings.
That includes expanding his purview to include different kinds of art, aside from his music. Denzel briefly attended the Design & Architectural Senior High school in Miami, and has retained that love for the visual arts. He says that befriending Metro Zu and Sebastian Ruiz, along with early psychedelic experimentation, encouraged him to get involved in that world. "The art scene in Miami, and just my experiences running around with my friends being the youngest of the crew was the dawn of the spontaneous realm that spawned my crazy life," he says.
By the time Raider Klan was splintering, Curry had already left and distinguished himself as a separate entity, fascinating in his own right. The first project that brought him broad acclaim was 2013's Nostalgic 64, a knotty, frequently brilliant record that delved further than ever before into the depths of Denzel's psyche. "I had already seen the light side," he says of his upbringing in a household where his mother was a Jehovah's Witness and his father a Baptist. "But it was when I really started channeling my dark side that my music started to change rapidly."
And indeed, that development might have happened too quickly for some to keep up. In June of 2015, Curry dropped 32 Zel / Planet Shrooms, a double-EP that saw him move away from his formalist roots and embrace chaotic, synth-led sounds. "I didn't like the reception 32 Zel / Planet Shrooms got, because I feel like nobody got what I was trying to say," he says now. "The way it was perceived, that clouded everybody's judgment about my music and about my craft. Nobody thought I could top Nostalgic."
As the sounds Denzel explored on the EPs moved even further into vogue--and as fans and critics started to come around to the new material--he pulled yet another bait-and-switch. Released this March, Imperial was both his finest work to date and his best received. The brief, breathless album showcases his near-peerless technical skill along with a newfound maturity in his songwriting. "I was going through a dark time," Curry says now of the time that birthed Imperial. So he challenged himself to find a radical level of transparency. "The whole theme of that tape is just being honest--exposing myself before anybody else does, talking about my past, talking about where I'm heading to."