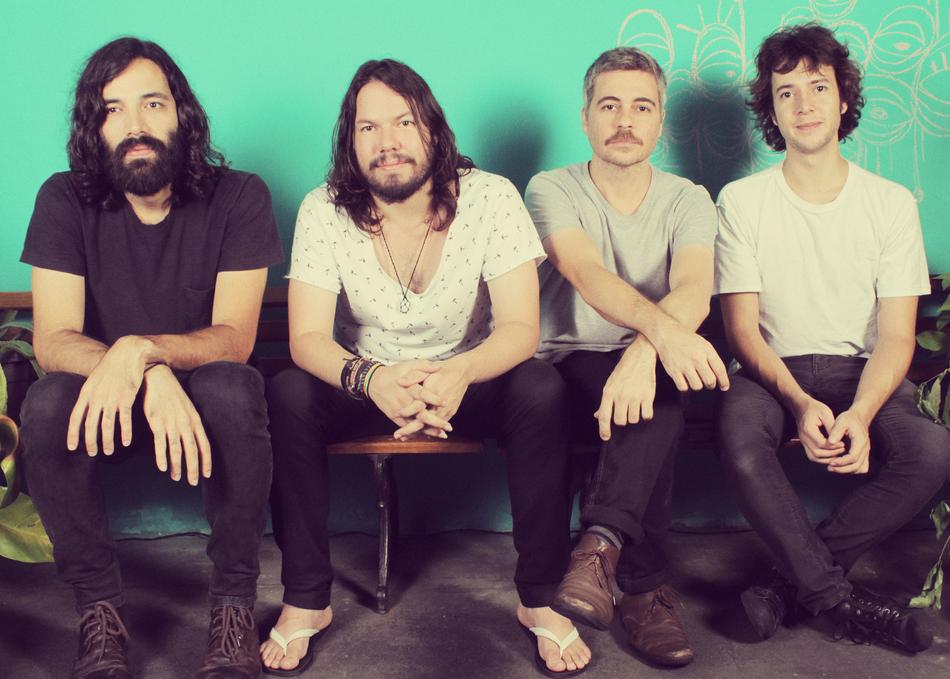 Maglore - Mantra
Mixing MPB with psychedelic rock and pop references, the power trio Maglore is formed by Teago Oliveira (vocals and guitar), Rodrigo Damati (vocals and bass) and Felipe Dieder (drums). The group's path, nominated by music critics as one of the strongest names of the new Brazilian music scene, sums up six years of music.
Based in São Paulo, the band presents now the CD and LP "III", already among the best albums of 2015 by Rolling Stone, Billboard, MTV, UOL and other major names in the music press. The band was also nominated as the second best show of the year by Folha de São Paulo. Auditorio Ibirapuera was the stage on which Maglore launched the album to the public.
Recorded live on tape, III was produced by Rafael Ramos (Titãs, Pitty, João Donato) at Tambor Studio, in Rio de Janeiro. "Mantra", first single of the album, was nominated as Best New Song at "Prêmio Multishow" in 2015 and performed well on radio stations of São Paulo and Rio de Janeiro.
The band was recently invited to the "27º Prêmio da Música Brasileira" and was recognized by the committee members as one of the best acts of the years along with veterans like "Titãs" and "Funk Como Le Gusta". The award brought an invitation to a performance on the main stage of Lollapalooza Brasil 2016.
With modern musical arrangements, catchy melodies and the lyrical inspirations of Teago's compositions, "III" was nominated the best album in Bahia in 2015 in a poll created by critics, journalists and influencers of local radio and TV stations organized by El Cabong website.
In a different poll created by Scream & Yell with the collaboration of more than 100 professionals of the music industry, the album was among the top five albums of the year.
Maglore emerged in the local scene of Salvador in 2009 as a quartet, at that time with Carlos Nery (bass) and Lelo Brandão (guitar and keyboard). They self-released two albums, "Veroz" (2011) and "Vamos pra Rua" (2013) featuring Carlinhos Brown and Wado. Both records emphasized the talent of the band in Bahia's musical scene.
"III" is the result of inside changes that brought different sounds and influences to the mix - now more subtle and simple, but not less creative and chic - that go from Caetano Veloso to Wilco, from the mysticism of Bahia to the urban roughness of São Paulo.
Subgenre: Pop
From: Salvador, BRAZIL