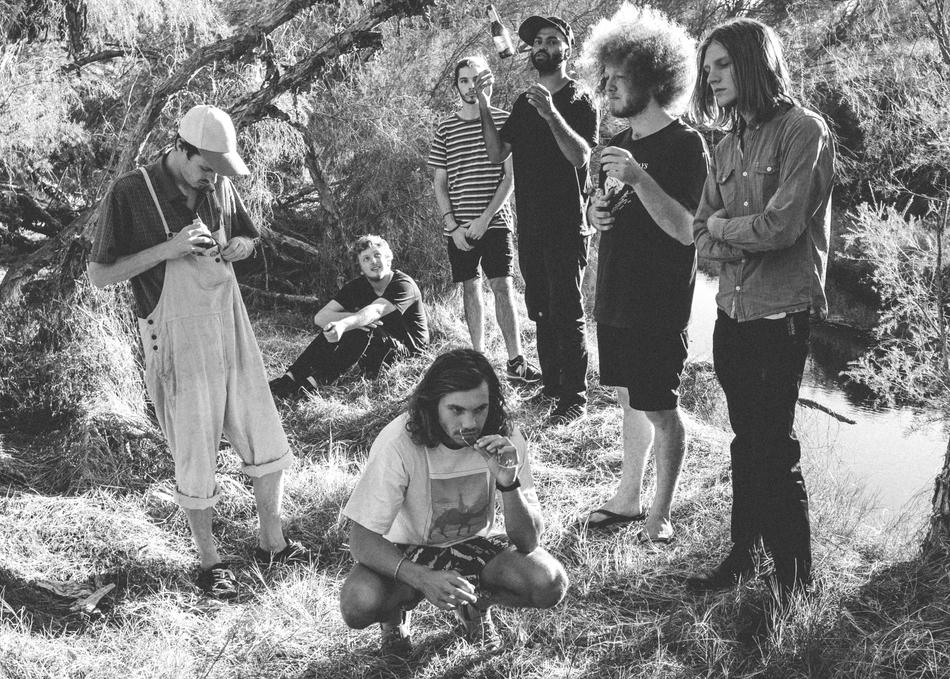 credit: Matsu Photography
Koi Child - 1-5-9
Koi Child is a seven-piece hip-hop group based in Fremantle, Australia. Birthed in 2014 from the collaboration of two local bands, Kashikoi and Child's Play, their electronic hip-hop and prog/jazz-rock fused to create something unique, establishing them as one of the most impressive emerging acts in Australia. A chance witness to the band's first performance, Kevin Parker of Tame Impala offered the band a support slot and mixed their debut LP, recorded on a small island shack south of Perth.
The album's thunderous second single 'Black Panda' has made waves, receiving high rotation on triple j and Apple Music's Beats 1 with Ebro Darden, heavy US college radio play including KCRW, and has reached 2015's most-played lists across Australian community radio. Online, the track received apt praise across notable sites such as Earmilk, The Fader and Noisey, whilst their first single 'Slow One' received big love from Zane Lowe on BBC Radio 1, who formally branded the group "Future Radio 1 Artists". The band also featured in Spotify's 'Spotlight on 2016 Australia & New Zealand', and won 'Most Popular New Act' at the 2015 WA Music Awards.
The unlikely hybrid has excelled in the live arena, selling out headline shows across Australia; supporting Tame Impala along their national tour and playing for Hiatus Kaiyote, Fat Freddy's Drop and Young Fathers among others. After hitting festivals such as the esteemed Golden Plains and State Of The Art, they're due for a huge summer including Southbound and Strawberry Fields as well as the national St Jerome's Laneway Festival.
In March 2016, the band released their self-titled debut LP via Pilerats Records / Warner Music Australia to great critical reception, as well as debuting on the ARIA charts at #6 in the Urban category and #25 overall.
PRAISE FOR KOI CHILD
"Ladies and gentlemen, that right there is Koi Child. I can't even, I can't even..." Ebro Darden, Beats 1 (Apple Music)
"Some of our horn section jumped up with Koi Child, this great local band that played [...] I was just hanging out, just watching. I wasn't playing or anything last night but I really love the band..." Mark Ronson
"Fremantle seven-piece Koi Child are breathing new life into the hip-hop genre." The Guardian Australia "...the freedom of The Roots' Illadelph Halflife-era soul/rap duality and the rhythmic hybridity of the early-90s Native Tongues collective." Rolling Stone Australia
"Australian seven-piece Koi Child break all the rules: their outrageously joyful, jazzy, psych-y hip-hop colors all the way outside the lines, with its breezy flow and rich production strokes from Tame Impala's Kevin Parker." The Fader
"Koi Child are fruit loops in a world of cheerios. They are colorful, unique, and entirely themselves. They transcend genre and are willing to take music in directions that are unprecedented in the scene today." Indie Shuffle
"Koi Child's dynamite execution of their music shows that the hype is absolutely authentic." TheMusic.com.au
"If Koi Child's upward trajectory continues at its current velocity, then it's surely only a matter of time before the group begins charting a path to world domination." FasterLouder
"Koi Child have carved out a space of their own in the Australian music landscape." FBi Radio
For all management enquiries, please contact: harris.waters@outlook.com
Subgenre: Jazz
From: Fremantle, WA, AUSTRALIA