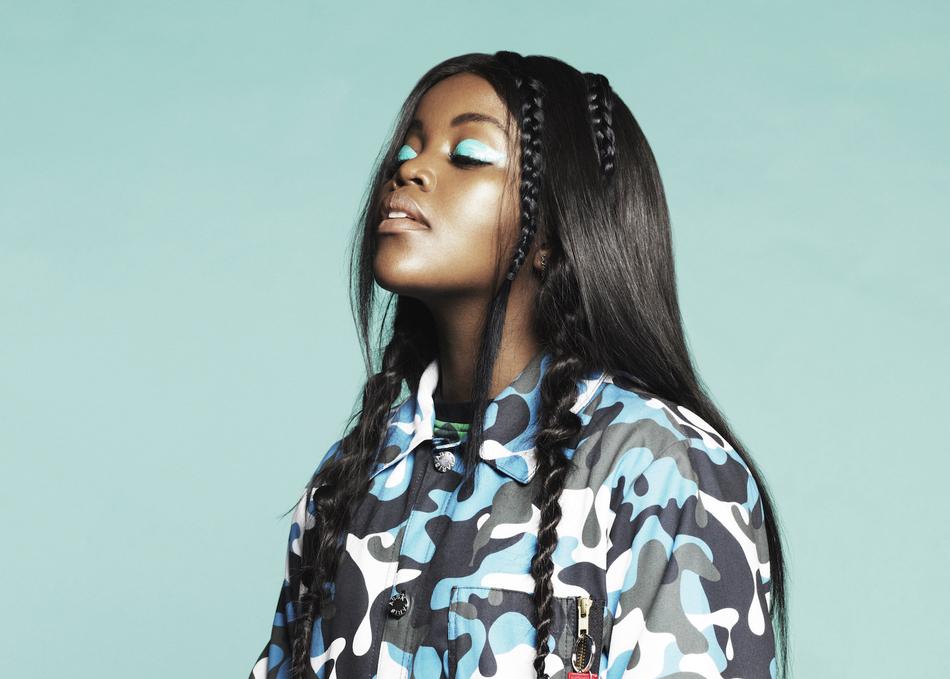 Tkay Maidza - Simulation
In the past few years, singer/rapper Tkay Maidza has risen out of the underground to emerge as one of Australia's most electrifying artists. With her rapid-fire flow, frenetic beats, and fiercely inventive lyrics, the Zimbabwe-born 20-year-old is now set to shake up audiences worldwide with her unstoppably magnetic debut album TKAY.
The follow-up to Switch Tape—an EP praised by Spin as a "bumper-car ride through hip-hop, pop and dance" and "one of the most freewheeling and exciting debuts of the year"—TKAY bursts with the same unbridled energy that's powered Maidza's showstopping performances at major festivals like Splendour in the Grass, Pukkelpop, and Way Out West. Thrillingly infectious, that undeniable vitality also recently prompted Killer Mike to crown her Australia's "biggest rising star" while marveling that Maidza "can dance her ass off—and she's actually saying stuff when she raps!"
Maidza brings that dance-ready yet reflective dynamic to each track on TKAY, an album that endlessly warps genres and shows her intense affinity for UK garage, grime, throwback hip-hop, and trap. Joining forces with producers like Salva (Young Thug, A$AP Ferg) and Dre Skull (Major Lazer, Snoop Dogg), Maidza continually pushes to the edge of chaos but keeps grounded in her pop-perfect melodies and masterfully heavy grooves. And in her lyrics, Maidza strikes a rare balance of boldness and vulnerability that gives TKAY a potent emotional charge.
"The idea behind the album is that it's like a soundtrack to a high school girl's life," explains Maidza, who jumped two years at school and graduated when she was only 16. "It's about feeling lost but then finding your way out. There are moments of confidence and moments of feeling lonely, but at the same time knowing that you don't need anyone or anything to be strong."
With its ever-shifting kaleidoscope of jagged beats and spacey synth, hooky melodies and furious rhythms, TKAY reveals a depth of musicality that Maidza's cultivated since she was a kid. Now based in Adelaide, Maidza was born into a family of miners and moved from Zimbabwe to Perth at the age of five. "My dad's always been in bands—mostly African folk music, or traditional Zimbabwean music—and my family would always go watch him play," says Maidza, whose early memories also include riding around with Outkast's Speakerboxxx/The Love Below on full blast in her parents' car. Though she mainly works electronically, her first experiences in music involved her dad teaching her to play guitar, in addition to some childhood training in piano.
At 15 she started experimenting with creating music on her own, with the help of her family's recording gear. "I was mostly playing around with existing songs," notes Maidza, whose first completed effort was a reworked version of Kanye West's "Power." By age 17 she'd teamed up with local producer Badcop for a pair of tracks: "Handle My Ego" and "Brontosaurus," both of which quickly made their way into rotation on national Australian radio station Triple J. Next came 2014's Switch Tape EP, which announced Maidza as an artist of dizzying originality and showcased her supreme vocal skills. In a review of featured track "Switch Lanes," Pitchfork highlighted her "slick, party-ready rapping" just before predicting that "she's got a glowing future." "That's the first song I wrote where everything was exactly what I wanted it to be," says Maidza of "Switch Lanes," whose beautifully goofy animated video has her riding a dolphin and falling through space amid dancing pizza slices. "I love how it's cute but the lyrics are kind of mean, really honest and straightforward."
Nominated for Best International Act at the 2016 BET Awards, Maidza recently lent her vocals to Martin Solveig's chart-climbing mid-2016 single "Do It Right." With her past live experience including support slots with Charli XCX, Mark Ronson, and Years & Years, she's also just torn through a string of summer dates that have brought her blissed-out live show to bigger and bigger crowds. "The whole vibe is to throw a party onstage," says Maidza of her live performance. "I always want it to feel like a bunch of friends hanging out rather than people coming to watch me. It's so cool to see people getting really involved, everyone brought together by the music."
That deep desire for unity also closely shaped the making of Tkay, according to Maidza. "I love creating something that's like a timestamp of however I was feeling at the particular moment of writing a song," she says. "And then I get to share it, and people can relate to that feeling, and it makes them feel less alone. That's my favorite thing about making music—that it's not about the artist, it's about everyone."
Subgenre: Electronic
From: Adelaide, SA, AUSTRALIA