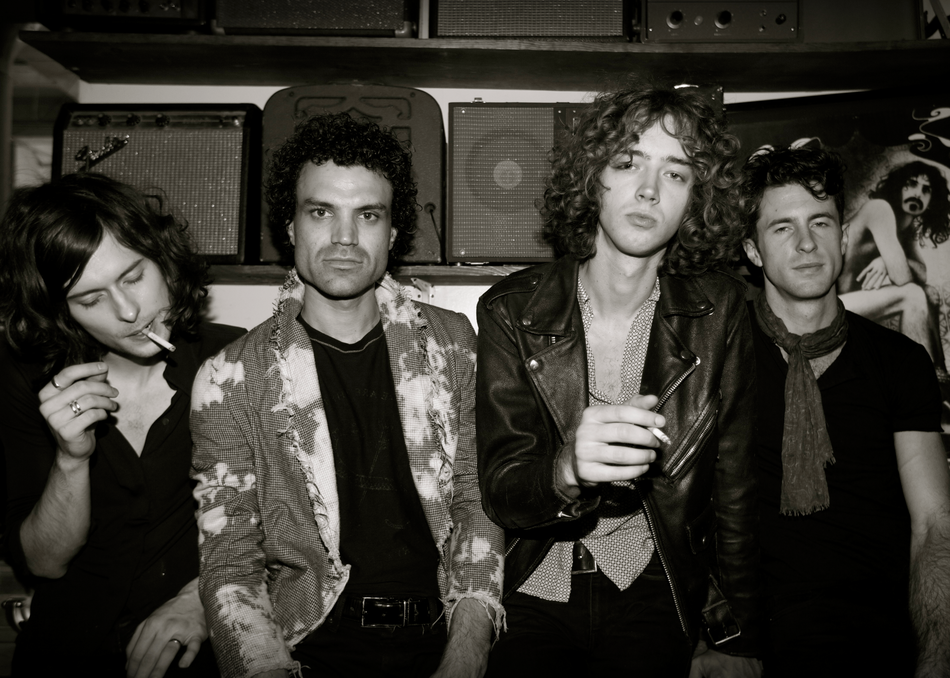 Warbly Jets - Alive
Ask Julien O'neill how Warbly Jets fits into LA's music scene and he'll have a simple answer for you: They don't. They exist out there in the ether—caught somewhere in between yesterday and today, where massive rock 'n' roll melodies brush up against skittish breakbeats, swoon-worthy strings, and laser-guided synth lines.
"A lot of LA bands are hung up on what used to be," explains the keyboardist, "and refuse to realize how forward-thinking music can be when you embrace modernity. We have no interest in writing something solely indebted to paisley and teardrop guitars."
"I love all the people here," adds singer/guitarist Samuel Shea. "That being said, I'm not a big fan of the '60s psych resurgence happening in LA right now. Our goal has always been to blend our influences from the past with today's technology instead of just recreating the jangly guitar music that was perfected by countless bands five decades ago. This hasn't necessarily given us the most obvious fast track, but we never gave a damn about being a scene band when we moved here anyway."
They couldn't afford to, really. With little to no money, circumstances led them to several months of couch-surfing, at one point when they finally secured a lockout production space in Venice, Samuel and Julien had no choice but to stay at a questionable motel nearby and begin to chip away. Another studio setback in San Diego left the two searching for housing back in LA while, perhaps more importantly, searching for the right space to record the band's first official cuts. The process was far from perfect.
"There were quite a few moments of slogging through shit" says O'neill, "but there were also some very lucky breaks in the end." Chief among them: the additions of Justin Goings on drums and Dan Gerbang on bass.
They've certainly needed the support at times; aside from the typical growing pains all bands experience, Shea was in a bad motorbike accident last year that left him with a fractured wrist and forearm. And while he felt "completely defeated" at first, "wondering if I would ever be able to play an instrument again," Shea was ultimately able to heal with the help of music, crafting vocal melodies and lyrics with Gerbang as the pair produced "Alive" – a tune that is appropriately now their debut single.
"It's been a great development to be able to share writing duties and produce as much as we possibly can with this group," says O'neill. Finding inspiration in downtown LA's Ultrasound Studios, the quartet dynamic and individual determination has seen the band hit it's stride recently with a slew of key performances in the Los Angeles area and growing label interest, all the while crafting a larger studio endeavor that isn't necessarily in the flow of their contemporaries.
Willing this project into existence, "Alive" is essentially a collective self-affirmation that aspiring to create in the face of all circumstances–internal or external–is the artist's most vital role. In hindsight, there was never really any question for Shea and company, but the journey so far has certainly yielded plenty of new answers.
Warbly Jets debut single is streaming now.
Subgenre: Alternative
From: Los Angeles, CA