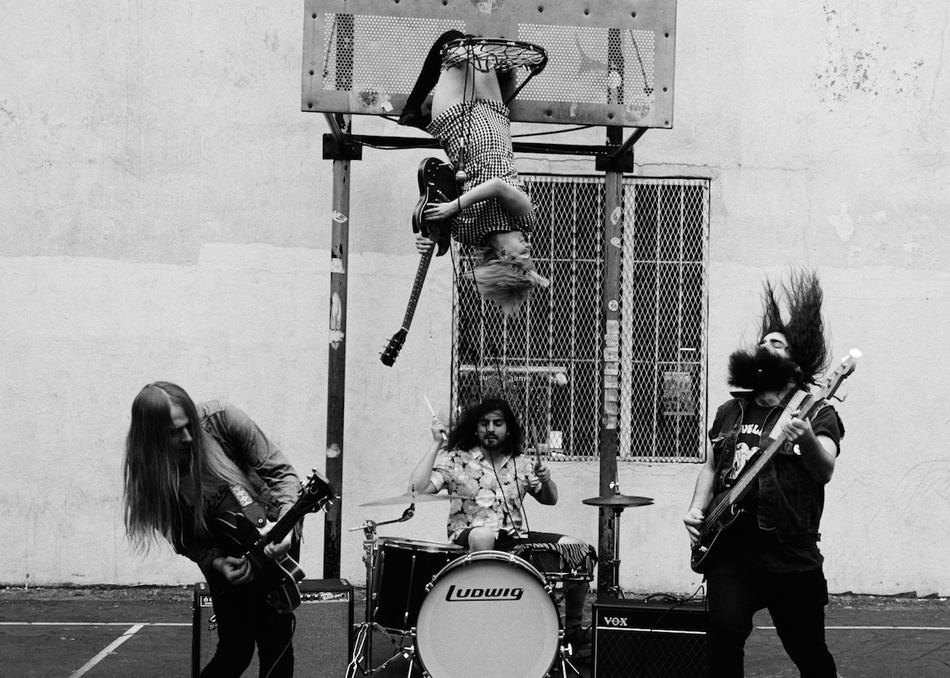 High Waisted - Trust
Quirky 60's garage rock is re-imagined from the nose of a surfboard, making High Waisted feel like a psychedelic lullaby. NYC surf rockers with pop sensibilities and an affliction for rock and roll. Named NME Magazine's "buzz band to watch," the group has completed a national tour to SXSW and released Acid Tapes Vol. 1 and 2. Their debut album, recorded at Dreamland Studio in Woodstock, NY, with renowned producer Bryan Pugh, is set to release January 2016. The band was born from friendship, over beers and burgers on Ludlow Street in NYC's lower east side. These four friends share sibling kitties, live together, and enjoy writing music on acid. Having continuously sold out NYC venues, the group is known for organizing and promoting their own shows in unexpected locations such as yachts, warehouses and rooftops. Every show High Waisted plays becomes the ultimate party. Born from friendship, late nights in the Lower East Side, and the desire to create music that makes you feel happy, High Waisted is known for wild parties and shows in unusual places. From Brooklyn rooftops, to warehouses, to boats cruising down the East River, an ensemble of Waistoids follow them with a trail of half-eaten pizza crusts and glitter in their wake. Their camaraderie is infectious and reflected in their debut album release, On Ludlow, named for the New York City street that brought them together.
Jessica Louise Dye moved to NYC for a boy and the opportunity for a fresh start. When he left with a piece of her heart and her entire record collection, Dye sought comfort in the anonymity of the city. She wandered the streets of the Lower East Side, sitting alone in dark bars late at night scribbling into a notebook. On one of these nights she met Jeremy Hansen (bass), Stephen Nielsen (guitar) and Jono Bernstein (drums) at a BYOVinyl night. Dye and the gang instantly bonded over old albums by The Ventures, Dick Dale, and Link Wray. It was there, over cold Tecates and spicy tequila, that they decided to start a surf band. They would drink and dance their way up and down the bars on Ludlow Street until the sun came up while sharing burgers and dollar slices, and racking countless games of pool. High Waisted was born, and the party had begun.
High Waisted's first two releases, Acid Tapes Volume 1 and Acid Tapes Volume 2, saw them paying homage to the surf rock greats before them—including covers of "Misirlou" and "Wipeout"—all while recording in one take on a single room mic after dropping acid. Now, with their self-released debut LP On Ludlow, the band is ready to add their own sound to the storied acts who have preceded them, while managing to stay true to themselves. "On Ludlow is a rejection of finding happiness and validation from others. It aims to inspire others to be silly, act wild, and do what makes you happy," explains Dye.
Subgenre: Surf
From: New York, NY