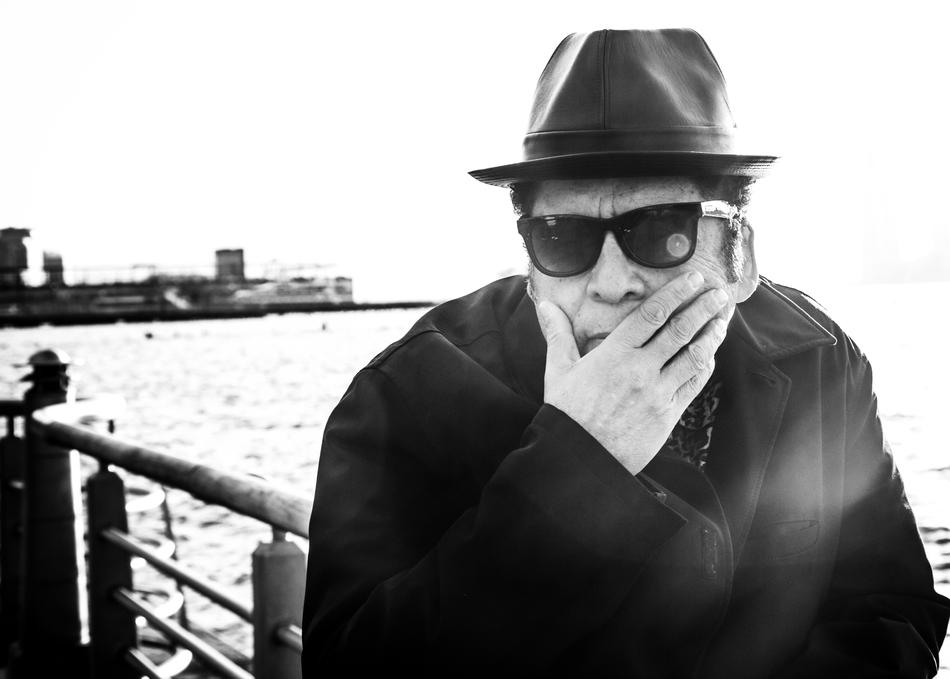 Garland Jeffreys - 14 Steps To Harlem
With a new album out this spring and a feature documentary in progress, at 73 Garland Jeffreys is not going gently into that good night.
A Brooklyn native "who could fairly be called the quintessential New York City musician" (East Hampton Star), "a confessional singer-songwriter" (New York Times), and "an explorer of the links between rock, race and rebellion" (New Yorker), after a long hiatus Garland Jeffreys came roaring back into the spotlight with 2011's The King of In Between. "As good a classic roots rock record as you're going to hear from anybody" (NPR) the album earned raves and led to his second appearance on David Letterman as well as sharing the stage with pals Bruce Springsteen and Levon Helm. The experience fueled a creative revitalization for Jeffreys, whose ebullient, late-stage creative energy colors every note of his most recent release, Truth Serum (2013).
Starting out in Greenwich Village clubs in the mid Sixties, Jeffreys first recorded in 1969. He continued honing his craft over a number of albums and in 1980 the song "Matador" hit # 1 in numerous European countries and is still a radio staple there today. In 1981 he broke though to American audiences with Escape Artist and in 1992 released the searing Don't Call Me Buckwheat, his reflections on being multi-racial in America.
Jeffreys has long held the respect of his peers and the breadth of contributors to his albums and performances reflect that respect as well as his genius for musical genre-bending: Dr. John, The E Street Band, John Cale, Michael Brecker, Larry Campbell, The Rumour, James Taylor, Luther Van Dross, Phoebe Snow, David Sanborn, Sly & Robbie, Sonny Rollins, Linton Kwesi Johnson and Lou Reed among many more. With a string of critically acclaimed records and radio hits including "Wild in the Streets" and his cover of the garage rock classic "96 Tears" it's a testament to both the broad appeal and durability of Jeffreys' music that his songs have been covered by hardcore punk legends The Circle Jerks (whose version of "Wild in the Streets" is a skater anthem), psych-folkies Vetiver and jazz trumpeter Randy Brecker.
His songs have been featured in numerous TV shows and commercials and "Wild in the Streets" is recently featured in the Baz Luhrmann-helmed Netflix original series "The Get Down."
A 2016 Long Island Hall of Fame inductee, a NY Blues Hall of Famer, featured in the Wim Wenders blues film "The Soul of a Man," recipient of the prestigious Schallplattenkritik Prize in Germany and the Tenco and Premio Prizes in Italy, performing at world-class festivals such as Byron Bay Blues, Montreux Jazz, Ottawa Folk, Calgary Folk and Fuji Rock, and at venues from Alaska to Japan, almost fifty years into his storied career Garland Jeffreys has no intention of slowing down.
What people are saying about Garland's legendary high-octane performances:
• Delivered a lean, mean showcase set with the grace and class that one has come to expect from him — SXSW, Austin Chronicle
• His live performances and his joy for life are undiminished. He will still jump from the stage and strut through the audience. When one story ends there's always another about to begin... — No Depression
• His live shows often cross the line between performance and full-on party — Elmore Magazine
• Deserves the status of American legend — The Guardian
Subgenre: Singer-Songwriter
From: New York, NY