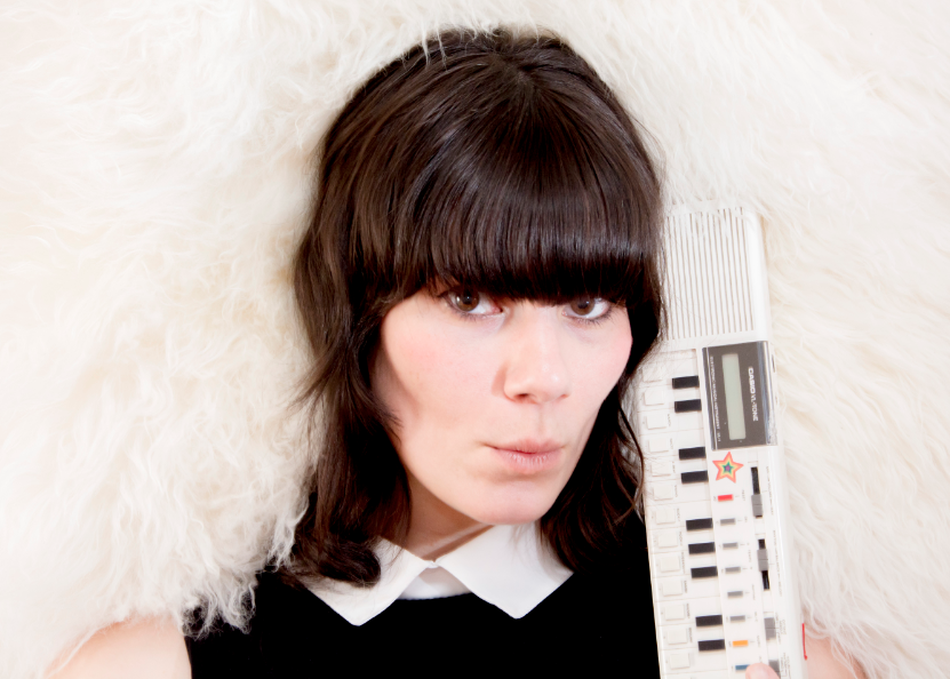 Glockabelle - Gazelle
Glockabelle is Annabelle Cazes. She plays two Casio VL-Tones, a lyre-shaped glockenspiel with eight thimbles and sings in both French and English.
Her wild sound stems from a combination of inspiration and circumstance. Born to Francophone parents, Glockabelle received an education both stateside and in France. After being introduced to the sound of the Casio VL-Tone by a neighbor in Paris, Glockabelle began blending her classical piano techniques with vintage synth-pop sounds resulting in a hyperactive mixture of rhythm and tone. She also developed a unique approach to playing the glockenspiel: not with mallets but with eight sewing thimbles.
This new sound lead Glockabelle to a 2008 tour with Fiery Furnaces, landing her a set at the Bonnaroo Music Festival. In 2010, Glockabelle composed an original piece for the Paris Cinema Festival which was broadcast in French Cinemas and on national television. She has performed at The Toronto Film Festival, Miami Art Basel, The Montreux Jazz Festival, on the Chris Gethard Show, WFMU, opened for James Chance, Kaki King, The Go! Team and Marnie Stern. She opened for Jack White's Raconteurs while touring as a member of the Fiery Furnaces. The New York Times said of her performance on this tour, "Technique in action: The glockenspiel has a new heyday in indie-rock, following a lineage from Phil Spector through the E Street Band through U2's first album to the Arcade Fire. But I haven't seen one played the way the Fiery Furnaces did: not with mallets, but with thimbles on fingertips. That can make for more simultaneous notes, more busy metallic pling."
In 2015, Glockabelle was a featured vocalist on the Go! Team's album The Scene Between with the song "Catch Me on the Rebound."
She released her first EP in May 2015, which was hailed by SPIN as "Anarchic Enchantment" and the A.V. Club as "[showcasing] her art-punk, synth-pop provocateur music with gleeful abandon, while still highlighting her exquisite musicianship. Her 'Wolf BBQ' EP is a collection of mostly unreleased tracks. The result is a collection of equally playful and technically complex tracks filled with surf and punk tendencies, all brought together with her intricate synths and controlled madness."
In June 2015, she toured Europe opening for the Go! Team. In September 2015, she performed at the Toronto International Film Festival as she contributed the soundtrack to the film "Concerning the Bodyguard" which was an official festival selection and narrated by Sir Salman Rushdie.
In January 2016, she opened for the Go! Team across the U.S. And in March 2016, her thimble glockenspiel playing premiered at both Lincoln Center and The Museum of Modern Art in New York City as "Concerning the Bodyguard" was an official selection at the New Directors New Films festival.
She completed a tour opening for the guitarist Kaki King in June of 2016 in the U.S. and Canada. In December 2016, her work debuted in Japan as her "Gazelle" song was selected as part of an exclusive compilation by the Tokyo-based label Stubbie Records.
Subgenre: Synthpop
From: New York, NY