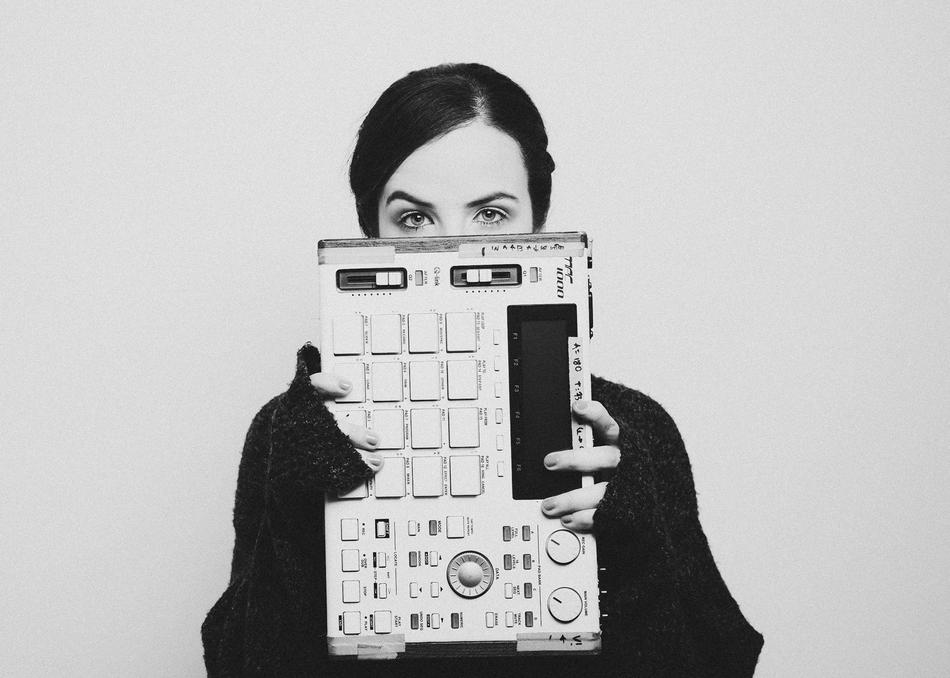 "Machines have always fascinated me. I see them as personifications of human desires, emotions, and the power of our imagination"
Hailing from Bogotá, Colombia, musician ela minus (Gabriela Jimeno) grew up in two parallel underground musical worlds, hardcore and electronic music.
After years of playing drums in bands in Colombia and the U.S and moving to Boston to attend Berklee College of Music, she eventually graduated with a dual major in drum set performance and music synthesis.
Soon after graduating, she set up a "home base" in New York City. Gabriela found herself playing drums in ambitious bands while building up her own musical persona experimenting with (and building her own) synths. After growing bored with the band lifestyle, she made the solo break and produced, recorded and released her solo debut EP, "First Words".
"I think what matters to me is the sense of being a part of a diaspora, not belonging anywhere, not having a home, this sense of floating through life, of perceiving everything from a very far away and detached perspective, that I would not have if I still lived in my comfortable surroundings of "home"."
Instead of working on one single body of work, Gabriela decided to take the approach of releasing a trilogy of EP's allowing listeners to follow her from the project's infancy onward, as her songwriting craft and artistry evolved and over 2016 the trilogy was completed
Her live show relies heavily on her musicianship, specifically her percussion background. ela minus performs everything live with hardware synthesizers, sequencers and samplers. sans laptop. Apart from playing the songs on her EP's, she improvises most of her set, making it a different experience every time proving to be the catalyst of the project's momentum in many ways.
Her 2nd release, Grow (released in the Spring of 2016) was released to critical acclaim from the likes of Fader, Vice and Remezcla. She played major Latin Music festivals such as Estéreo Picnic and NRMAL and in the US at SXSW, Viva Pomona and supported other artists such as Chairlift and Chrome Sparks before going back to work on the final installment of the trilogy "Adapt" (due out February 8th).
"This has been like a re-birth for me as an artist: so, like a new baby, first words - grow - adapt. It made sense with the time I was living in too, on first EP everything was changing I didn't really know what or why I was doing it, in the experience of making the second EP I grew as an artist a lot, and now I am adapting. I learned to learn."
Subgenre: Indie Pop
From: Bogotá, COLOMBIA