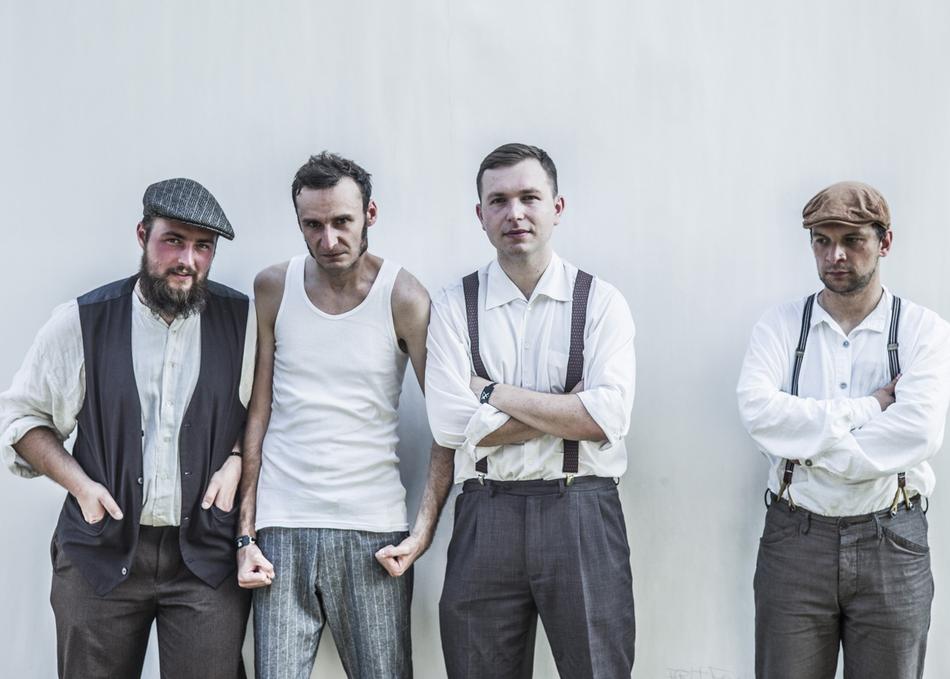 credit: Szymon Szczesniak
Hanba! - Gmachy (Edifices)
The Rebellious Street Band Hańba! ('disgrace') is musical and literary fiction, designed to convince their audiences that punk-rock was not born in the noisy seventies on the British Isles, but goes way back to the Second Polish Republic, a period marked by extraordinary cultural, artistic, and economic growth, but also systematic destruction of democracy, the authoritarian rule of the Sanation movement and its imperialist impulses. With the support of street instruments (banjo, drums, accordion, tuba) and a bunch of interwar poets (Tuwim, Brzechwa, Broniewski), four Cracovian performers impersonate imaginary yesteryear characters and combine musical inspirations (punk, folk, klezmer) to tell their own tale.
Their debut long-play album was released in a CD and a vinyl format at the beginning of February 2016, produced by a legendary Polish independent record label Antena Krzyku.
The band received the Czesław Niemen Special Award in the aforementioned Polish Radio Folk Music Competition New Tradition (Nowa Tradycja), for "bold artistic idea and expression."
In 2015 Hańba! performed at a number of festivals, amongst others the Off Festival in Katowice. Their concert in Nikiszowiec was recorded by KEXP Seattle.
In 2016 the band will not slow down, it will gain momentum! Hanba! has just finished a 21 day North American tour where they became one of the greatest sensations at the Nelsonville Music Festival (Ohio). In July they gave an unforgettable show at the Pohoda Festival (Slovakia) alongside contemporaries like Gogol Bordello and PJHarvey.
Subgenre: Folk
From: Cracow, POLAND