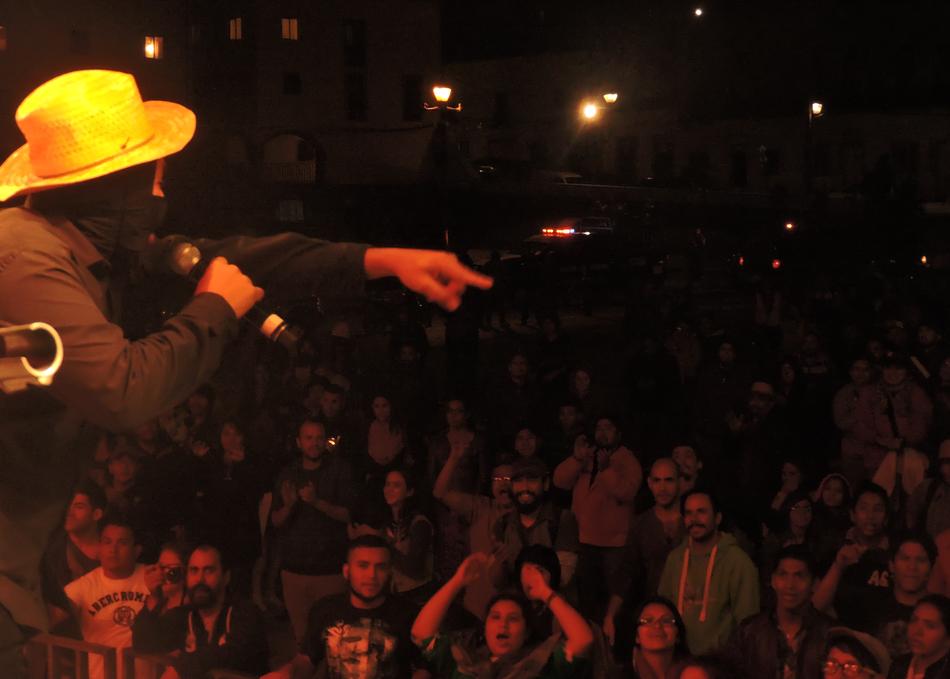 Mr. Blaky - Cómo me gusta esta vida
MR. BLAKY
WHO IS HE?
Since his birth in Lyon, France in 2008, Mr. Blaky, a black mask and yellow hat character, has not stopped bringing his Funk, Rap, Rock, Traditional rhythms of northern mexico and other fusions to various countries around the world.
INTERNATIONAL TOURS
Mr. Blaky has 5 international tours that have played in Spain, France, Germany, Portugal, Poland, Holland, Belgium, England, México, USA and Peru, stepping stages of important festivals like Easy Music Fest (Madrid, Spain, 2012) Cervantino International Festival (Guanajuato, México, 2015); The FILIJ International Book Fair (CDMX, 2016) or SXSW (Austin, Texas, 2017), as well as mythical concert halls: Sala Caracol or Copernicus (Spain); Le Pop up du Label (France); Centro Cultural España, Imperial and 246 (México), among others.
MUSIC AND SHOW
Mr. Blaky has made 4 albums in which the fusion of fresh music, is united with letters that come from the observation and description of our day to day, composed by the things that we like and those that we dont like, forming songs that allow to develop a dynamic theatrical music show where the interaction with the public is energetic and constant.
MEDIA
Throughout his career, Mr. Blaky has been reviewed and interviewed by a large number of international media (newspapers, blogs, magazines, TV programs, radio, etc.). A live session for the Mexican TV program Central Once, Canal Once and Gritaradio; Reviews by Chava Rock, Vice Noisey's Magazines, Indie Mexico, or interviews for newspapers like La Jornada, El Sol de México, El Universal, among others. View reviews and interviews >> https://www.google.com/webhp?sourceid=chrome-instant&ion=1&espv=2&ie=UTF-8#q=mr%20blaky
DISCOGRAPHY
Welcome to Notre Planet (2009)
Insistente (2011)
¿Vuelas? (2013)
Fiesta y Resistencia (2015)
SOCIAL NETWORKS:
Facebook (home network with 300,000 followers): https://www.facebook.com/Mr.Blaky1/
Twitter: https://twitter.com/MRBLAKY
Spotify: https://open.spotify.com/track/ 4MSvQr8FWSw4LyBSEsEn0T
VIDEOCLIPS:
Everybody Puercos: https://www.youtube.com/watch?v=2GAQ2YxfuI0
Punto Final: https://www.youtube.com/watch?v=ISzhR5x2RUY
Jipitecas: https://www.youtube.com/watch ? V = noQDorO71RE
Como me gusta estas vida: https://www.youtube.com/watch?v=mOVHXhFsFAc
BOOKING AND MANAGEMENT:
mrblaky@hotmail.com operafestmexico@gmail.com
Phone: +526691244665
Subgenre: Fusion
From: Mazatlán, MEXICO