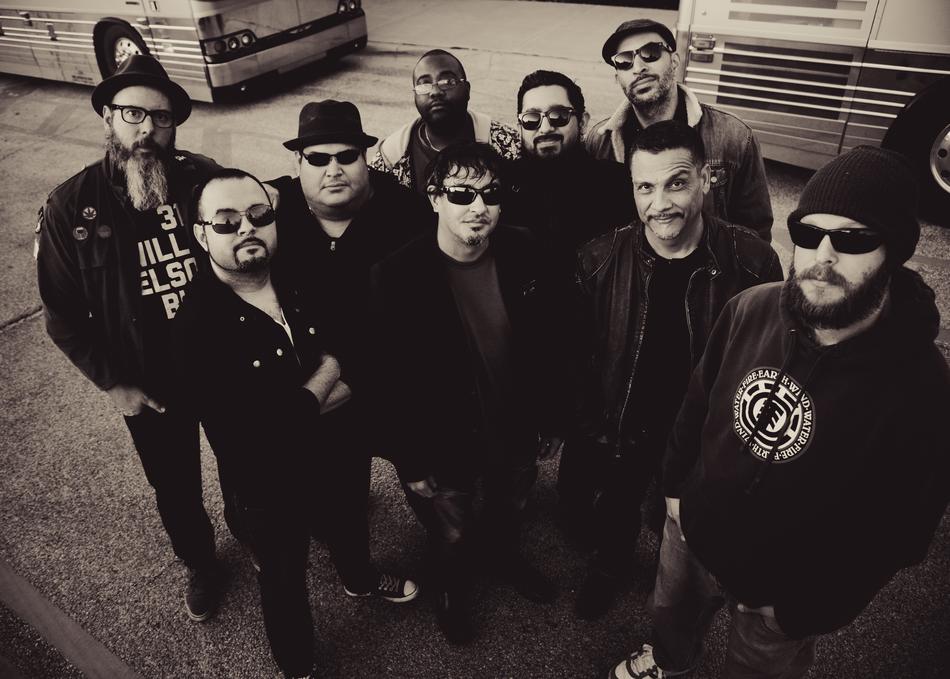 credit: Daniel Jackson/Listenyoungman
Grupo Fantasma - Cayuco
Grupo Fantasma has been praised as one of the most important independent acts in the Latin genre and has continually defied expectations to create one of the most unique musical voices to come out of the United States in the last decade. In 2011, they garnered further acclaim by winning a Grammy (their second such nomination) for their self–produced release El Existential on Nat Geo Music which the Wall Street Journal called "Latin music both new and traditional…vibrant fusions that transcend easy classification."
The band's incendiary live show, declared by NPR as "seamless whenever and wherever they're on stage" has brought the band to major festivals and venues internationally including Bonnaroo, North Sea Jazz Festival and Lowlands in the Netherlands, Kennedy Center, London's O2 Arena, Montreal Jazz Festival, WOMEX, Tempo Latino (France) as well as two tours to Kuwait and Iraq to entertain US troops. Their diverse spectrum of devoted fans speaks to the ensemble's universal appeal beyond just Latin or world music fans.In addition, they have worked or recorded with Maceo Parker, Sheila–E, Curt Kirkwood of the Meat Puppets, Ruben Ramos, GZA of the Wu–Tang Clan, cult–hero Daniel Johnston and many others.
Grupo Fantasma has also seen a wide array of film and TV placements including AMC's Breaking Bad, the John Sayles' film Casa de los Babys, Showtime's hit series Weeds, ABC's Ugly Betty, NBC's Law & Order and many others. They have served as the backing band on several occasions for the legendary Prince (ALMA Awards on ABC, Golden Globes, CBS Super Bowl Bash), Fania All–Stars pianist Larry Harlow, Sheila–E, GZA of Wu–Tang Clan and indie rock standouts Spoon. In 2012 and 2013 they continued to tour the globe with club and festival dates in anticipation of their next studio release, a full–length album produced by Multi–Grammy award winner Steve Berlin of Los Lobos.
Grupo Fantasma is a nine piece musical collective formed in 2000 in Austin, Texas consisting of Jose Galeano (timbales, vocals), Kino Esparza (vocals, hand percussion), Beto Martinez (guitar), Greg Gonzalez (bass), John Speice (drums), Matthew "Sweet Lou" Holmes (congas), Gilbert Elorreaga (trumpet), Josh Levy (baritone saxophone) and Mark "Speedy" Gonzales (trombone).
From the Press…
"Latin music both new and traditional…
vibrant fusions that transcend easy classification"
–Wall Street Journal
"Latin funk masters."
–USA Today
"A sound done so right that you have to hand the crown to this group."
–Huffington Post
"Seamless… whenever and wherever they're on stage."
–NPR
"Tightly weaving Anglo, Afro and Latin musical genres, El Existential takes on an identity of its own. They blast off in their own funktified, genre–breaking directions."
–Billboard
"One of the sickest live bands ever"
–Philadelphia Weekly
"Real musicians playing real music."
–Prince
"An orgy of creative musicianship"
–San Francisco Weekly
"Fantasma is honing a decidedly 21st–century version of Latin groove."
–Boston Globe
Subgenre: Cumbia
From: Austin, TX