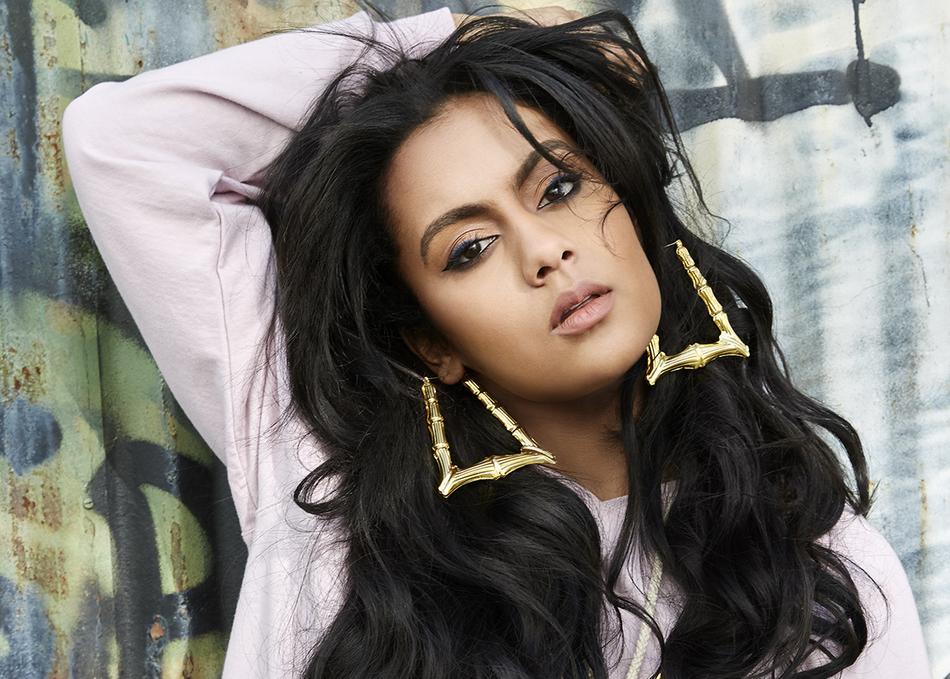 Bibi Bourelly will change the way you think about fearlessness. The 22-year-old singer and songwriter introduced the world to her remarkable sound and undeniable spirit with her first two singles, "Ego" and "Riot," which Fader called "brilliantly raw," and she's gearing up to do even more. Her sound is a balancing act of tough, wise worldliness and vulnerability that makes her a true force to be reckoned with.
Bourelly was born in Berlin, to a guitar-player father and an art world powerhouse mother. Creativity, and most importantly music, were literally in her blood. Bourelly says of her musical upbringing, "You know the way babies pick up on words? I learned music like another language, because it was all around me." Technical skill and knowledge is only one element of what it takes to be an artist, though, and Bourelly says that her sound would be nothing like it is today were it not for the death of her mother from cancer when Bourelly was just six years old. Her mother's death, and the forced self-reliance she had to learn after it, is the foundation of her songwriting. In addition to introducing her to the experience of profound loss and pain at a very young age, her mother's death taught Bourelly to live life as freely as possible and to not take her desires for granted.
In the years that followed her mother's death, Bourelly took to the streets of Berlin, hanging out on rooftops and subways, ultimately getting into trouble with her friends. This became the backdrop for her creative evolution, which eventually led her to write Rihanna's "Bitch Better Have My Money." While most young teenagers would have been in school, Bourelly was learning to see the world in a whole new way on the streets. "The world was so big when I stopped giving a fuck about what people thought," she says, adding, "when I was hanging out on rooftops, and drinkin' and shit, I could accomplish anything. I could be anything I wanted to be." After her grades dropped to a point she couldn't continue schooling in Berlin, she took everything she'd learned with her to the States. "I got to see the world from a rat's perspective, from a little person's perspective," she says of the days when people looked at her like "a troubled kid." She also took with her a feeling of freedom, of "running around the streets with my friends, and getting in trouble, and being scared of being arrested and shit." You can hear this freedom in her songs, and their self-possessed, wild child attitude.
"They want me to be this picture perfect girl," Bourelly sings on "Ego," "But I curse when I talk and I lean when I walk and I been through some shit and I've gained and I've lost." It's this push and pull of freedom and sadness, self-possession with just a hint of heartbreak, that makes Bourelly's toughness truly unique. Her voice is soulful -- powerful but rough, a little frayed around the edges like the morning after a long night. She's sweeter on "Riot," the edges a little cleaner, but the message is still one of strength. "If I go, I'm gon' start a riot, I'm fighting for my life here, I'm gonna give y'all everything tonight" she sings. This is the vulnerability that Bourelly is trying so hard to express, the struggle that still comes from being free. But it's that struggle that's so essential to everything Bibi Bourelly stands for. "I'm not saying I never get scared," she says, "but I'm saying I don't give a fuck if I'm scared."
Last year, fear was the last thing on Bourelly's mind as she released not one but two EPs, Free the Real (Pt. #1) and Free the Real (Pt. 2.). Both projects received critical acclaim from platforms like Pitchfork, FADER, and Spin, noting her husky voice and evocative lyricism that stands out in today's music landscape. Free the Real (Pt. 2) was a milestone project for Bourelly, with single "Ballin" earning radio spins around the nation and landing the songstress on Late Night with Seth Meyers and The Late Late Show with James Corden.
With two EPs behind her and a lifetime of fearlessness ahead, Bourelly steps into this next exciting phase of her career with a debut album on the horizon.
Subgenre: Soul
From: Berlin, GERMANY