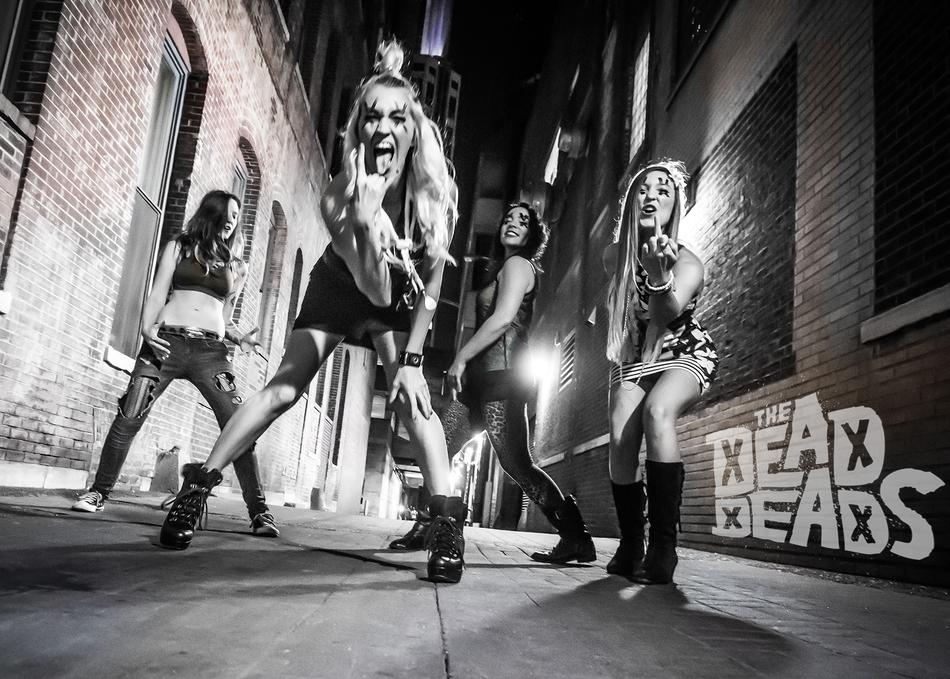 The Dead Deads - Blackout
The Dead Deads are comprised of a pair of best friends who came together for a girls' jam night that turned into much more. Audiences may be curious as they see four girls with X's painted over their eyes appear on stage, but once the wall of sound washes over them, they are transfixed and spirited away into the dark and magical world of The Dead Deads.
Heads bang as metal and grunge riffs are beaten into submission by relentless, often bombastic rhythms. Sister-like harmonies, brutal growls and finely crafted wordplay force unexpected stops and odd time signatures into undeniable hooks creating a new brand of drum-driven rock–brutal, silly and sublime. The Dead Deads explore sounds from 90's bands like The Pixies and Sonic Youth, to modern metal bands like Mastodon and Baroness, all while keeping their grunge/punk rock roots. The girls name Nirvana, Failure, Glassjaw, NOFX, Neurosis, Weezer, Helmet, Prince, Pink, Beck and The Melvins in amongst their hugely diverse list of influences.
In December 2014 they wrapped their first national tour with Halestorm, dramatically growing their fanbase through their wild live show and warmth with their "dead corps" at meet and greets. Their debut full-length record "Rainbeau" produced by Brian Carter at Paradox and mixed by Matt Mahaffey/sElf was recorded live to tape in three days and released in November to rave reviews calling the album, "the weirdest wonderland of accessible punk and rock you've heard in awhile," and "one of the better albums of the year." "Rainbeau" went on to win a Best Rock Album in the Nashville Music Awards.
Named by The Nashville Scene as a band to watch in 2015, the band continued to grow: They christened the new Nashville venue, Basement East, played a live on-air gig for WRLT at legendary listening room 3rd & Lindsley, broke crowd number records at Riverbend Festival in Chattanooga, played a sold-out hometown show with Evanescence on their triumphant return, and partied down on Motorhead's Motorboat cruise with the likes of Motorhead, Slayer, Anthrax, Suicidal Tendencies, Huntress, and Crobot.
In 2016, the band continued their winning streak, playing the ShipRocked cruise with 5-Finger Death Punch, Seether, Halestorm, and Helmet where they quickly became fan favorites. Page Hamilton (Helmet) took notice of the band on the cruise, and offered his services as producer. The new album produced by Hamilton and engineered by Toshi Kasai (Melvins), Dan Certa and Keiffer Infantino was released on August 26th, 2016 and entitled For Your Obliteration...which has since caught the attention of several rockers, including Corey Taylor (Slipknot, Stone Sour), calling it "one of the best albums of the year."
From For Your Obliteration...The Dead Deads released (July 2016) another irreverent, self-produced music video with director Seth Graves for the single "Sympathy Sex," which is a roaring introduction to the raucous rippage on the new record. The girls promoted the release of FYO by hitting the road with Bush and Chevelle last summer and fall (June - November). After that successful tour, The Dead Deads finished out the year by playing a hometown show to a sold out Exit/In to ring in the new year.
The girls haven't slowed down in 2017. They continued their winning streak by playing aboard Shiprocked once again with fellow hard rockers Breaking Benjamin, Alter Bridge, Papa Roach, Sevendust, Avatar, etc. Right after the cruise, the girls played a sold-out show with Nonpoint in Fort Lauderdale, as well as two theatre shows with fellow Shiprockers Alter Bridge and Monster Truck.
With even more new music on the way, it's not just fun and games anymore. The Dead Deads are on a righteous rock 'n' roll mission. Get to know them and get hip to the agenda.
Subgenre: Grunge
From: Nashville, TN