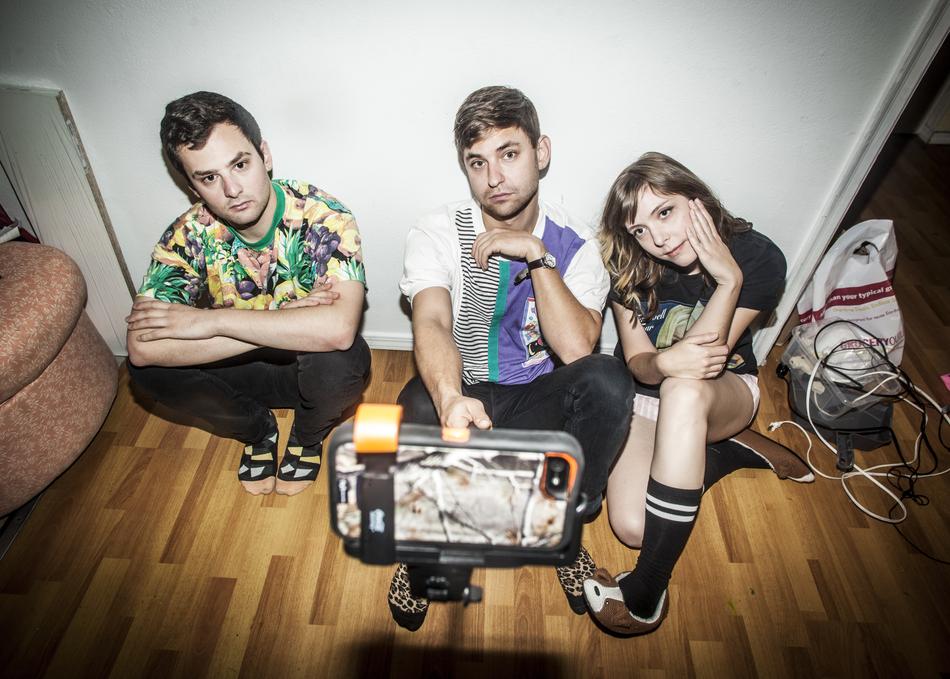 Dude York's Sincerely opens with a blast—the massive opening chords of "Black Jack," a squealing track that blends the swagger of glam with the heavy riffing and ringing hooks of arena rock. The Seattle-based trio—Peter Richards on guitar and vocals, Claire England on bass and vocals, and Andrew Hall on drums—is announcing itself with an album that couches its themes of anxiety and eroding mental health in rock tracks that amp up the sweetly melodic crunch of powerpop with massive distortion and bashed-to-heck drums. Sincerely is a loud, sweaty rebuke to those moments in life when it seems like nothing's working, a testament to the power of friendship, staring problems directly in the face, and finding solace in art.
Richards, England, and Hall have been through a lot during their four years of playing together, and tracks like the speedy, dark "Paralyzed," the Creedence-echoing "Twin Moons," and the frustrated yet ebullient "Something in The Way" combines lyrics that play on the trio's travails with jumpy, riff-heavy distorto-pop. England handles lead vocal duties on the zinging kiss-off "Tonight" and the slowly grinding "Love Is," the first time she's done so on a Dude York record. "Times Not on My Side," an intimate farewell note sung atop jangling acoustic, caps the album.
A first pass at a home-recorded version of Sincerely led to the band being told that there was "drywall in every piece of [the record]," says Hall, and they had to go back to the drawing board. Longtime Sleater-Kinney and Bikini Kill producer John Goodmanson and JR Slayer (aka The Blood Brothers' Cody Votolato) helped Dude York craft a record that captured the energy of their live show while finding new ways to expand upon its ideas.
The band's thoughtful approach to putting together Sincerely's songs echoes the album's overarching themes of almost-punishing inward focus.
"I feel like it's about losing perspective—a spiraling-inward perspective despite what may be ready support networks around you," adds Richards. "It's like, 'I don't need anybody's help. I should be able to do this myself, because it's just, like, living.'"
Bringing England's straightforward drawl into the mix underscores that idea, and its contrast to Richards' excited yelp heightens the tension on Sincerely, a chaotic, yet ultimately triumphant album that's a vital tonic for these increasingly confused times.
"Your back's against the wall," says Richards, "so all you can do is fight."
Subgenre: Alternative
From: Seattle, WA