AMERICAN INTERIOR
Synopsis
Welsh musician Gruff Rhys documents his latest musical road trip, retracing the fantastical adventure of his 18th Century relative, the explorer John Evans.
In search of a lost tribe of Welsh-speaking Native Americans, John Evans left Wales for America in 1792 with only a $1.75 in his pocket. Alone and without a horse, he walked into the wilderness of the Great Plains and reappeared 7 years later as Don Juan Evans having changed the shape of American history.
Fiction, fact, fantasy, myth and music documentary collide in "AMERICAN INTERIOR" as Rhys uncovers Evans' legacy to American, the true circumstances of his death, and his final resting place.
Credits
Director: Dylan Goch, Gruff Rhys
Executive Producer: Llion Iwan, Adam Partridge
Producer: Catryn Ramasut,
Screenwriter: Gruff Rhys
Cinematographer: Ryan Owen Eddleston
Editor: Dylan Goch
Sound Designer: Dom Corbisiero
Music: Gruff Rhys
Principal Cast: Gruff Rhys, Keith Bear, Cory Spotted Bear, Edwin Benson, Prof Gwyn Alf Williams, Kliph Scurlock, Carolyn Gilman, John Evans
Director Bio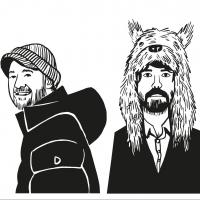 Musician and songwriter Gruff Rhys and Dylan Goch are long time visual collaborators. They released their debut feature documentary 'Separado!' in 2010 to critical acclaim. American Interior is their second feature length film together.
Contact
Public Film Contact
Catryn Ramasut
ie ie productions
catryn@ramasut.com
+447932680354
Still