Krisha
Synopsis
Krisha has not seen her family for many years. When Krisha decides to join her family for a holiday dinner, tensions escalate and Krisha struggles to keep her own demons at bay.
Credits
Director: Trey Edward Shults
Producer: Trey Edward Shults,
Screenwriter: Trey Edward Shults
Cinematographer: Drew Daniels
Editor: Trey Edward Shults
Sound Designer: Scott Hirsch
Music: Brian McOmber
Additional Credits: Production Sound Mixer: Greg Armstrong, Production Assistant: Justin Chan
Principal Cast: Krisha Fairchild, Robyn Fairchild, Chase Joilet, Bryan Casserly, Trey Edward Shults, Victoria Fairchild, Billie Fairchild
Director Bio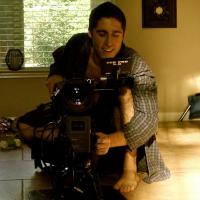 Trey Shults was born and raised in Houston, Texas. He began his career interning on Terrence Malick's "The Tree of Life" and working in the camera department for Malick's "Voyage of Time" and "Untitled Terrence Malick Project." Most recently, Trey worked in pre-production for Jeff Nichols' upcoming "Midnight Special."
Contact
Public Film Contact
Trey Shults
hoodie boy productions
trey.shults@gmail.com
407-572-4556
Still