Cowboys Janken Ook
Synopsis
Sven and Gijs are best mates. They do absolutely everything together, whether going clubbing or mucking about or simply pondering life. Their intimacy is such that one of them can even stroll blithely into a room where the other is having sex. In ten years' time they plan to have travelled the length and breadth of South America on motorbikes. But all at once everything changes: Sven gets involved in a fight one night, Gijs tries to intervene and sustains a blow to the head which sends him into a coma. There's no knowing if he'll pull through and their friendship is tested to the limits.
Credits
Director: Mees Peijnenburg
Executive Producer: Layla Meijman
Producer: Layla Meijman,
Screenwriter: Merinde Verbeek
Cinematographer: Stephan Polman
Editor: Imre Reutelingsperger
Production Designer: Tim Balk
Sound Designer: Taco Drijfhout
Music: Robin Assen
Additional Credits: Line producer: Lotte Bronshoff, Line producer: Paul Overste, Gaffer: Benjamin Sparschuh, Art Direction: Nelli Bodt, Costumes: Maxa van Panhuis, Vita Mees
Principal Cast: Ko Zandvliet 
, Jonas Smulders
Director Bio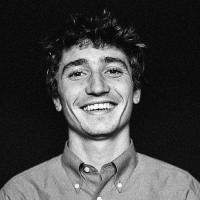 From the moment Mees (1989) began high school he was making short films, skate videos, and documentaries. He studied at a Danish film school and one year later he got accepted to the Netherlands Film Academy, specializing in directing. His creative style experiments with different narrative forms with a distinct visual style.
Contact
Distributor: Some Shorts: Wouter Jansen
Public Film Contact
Wouter Jansen
Some Shorts
info@someshorts.com
+31 622076717
Still