The Immortalists
Synopsis
Two extraordinary scientists struggle to create eternal youth with medical breakthroughs in a world they call "blind to the tragedy of old age." Bill Andrews is a lab biologist and famed long-distance runner racing against the ultimate clock. Aubrey de Grey is a genius theoretical biologist who conducts his research with a beer in hand. They differ in style and substance, but are united in their common crusade: cure aging or die trying. They publicly brawl with the old guard of biology who argue that curing aging is neither possible nor desirable. As they battle their own aging and suffer the losses of loved ones, their journeys toward life without end ultimately become personal.
Credits
Director: Jason Sussberg, David Alvarado
Executive Producer: Chuck Braverman
Producer: Kate McLean, David Alvarado, Jason Sussberg
Cinematographer: David A. Alvarado
Editor: Annukka Lilja
Sound Designer: Peter Albrechtsen
Music: Eric Kuhn
Additional Credits: Sound: Jason Sussberg, Animator: Toros Kose, Title Designer: Kinda Akash
Principal Cast: Aubrey de Grey, Ph.D, Bill Andrews, Ph.D, Terry Grossman, M.D., Adelaide Carpenter, Ph.D, Molly Sheridan, Randy Lee, John Anderson, Leonard Hayflick Ph.D., Colin Blakemore Ph.D.
Director Bio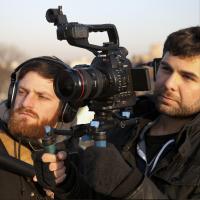 Jason is a San Francisco-based documentary filmmaker at Dogpatch Films. Educator, marathoner, militant cyclist, fermenter, hot saucier.
David lives in New York City and obsesses about science, philosophy, and the bizarreness of religion. He believes the intersection of science and society is the landscape that will shape the future of humanity.
Contact
Public Film Contact
David Alvarado
Structure Films
david@structurefilms.com
6462463657
Still