The Maker
Synopsis
A strange creature races against time to make the most important and beautiful creation of his life.
Credits
Director(s): Christopher Kezelos
Producer(s): Christopher Kezelos, Christine Kezelos
Screenwriter(s): Christopher Kezelos
Cinematographer: Matthew Horrex ACS
Editor(s): Christopher Kezelos
Production Designer: Christopher Kezelos
Sound Designer: Brendan O'Brien
Music: Paul Halley
Additional Credits: Puppet Creator: Amanda Louise Spayd, Visual Effects Supervisor / Compositor: Justin Alvarez, Animators: Christopher Kezelos, Mark Lagana, David Cox
Director Bio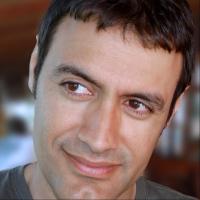 Christopher Kezelos has been a filmmaker for over a decade creating ads, corporate films and shorts through his production company Zealous Creative. In 2010 and 2011 his stop motion short film 'Zero' screened in over 50 festivals and won 15 awards. Christopher currently lives in Los Angeles and is writing a feature animation.
Contact

Public Film Contact
Christopher Kezelos
Zealous Creative
themakerfilm.com/contact
3234033664
California
90036
Stills