Janitor's Laundry
Synopsis
Located in a lonely laundrymat, The Janitor's Laundry follows two innocent victims and their unsuccessful escapes from a murderous janitor.
Credits
Director(s): Brian Broder
Executive Producer(s): Kevin Lau
Producer(s): Brian Broder
Screenwriter(s): Brian Broder
Cinematographer: Brian Broder
Editor(s): Brian Broder
Sound Designer: Josh Cohen
Music: Will Kraus
Additional Credits: Key Grip: Kevin Lau
Principal Cast: Amanda Wagner, Harrison Ward, Kyle Matthew, Kevin Lau
Director Bio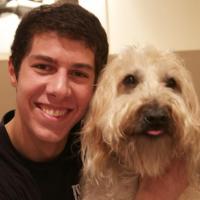 Brian Broder is a junior at Greenhill School. He enjoys making films for film festivals and has his own organization, "Filming for a Cause," which makes films for non profit organizations.
Contact

Public Film Contact
Brian Broder
BHB Productions
broderb@greenhill.org
2145853979
Dallas
Texas
Stills