Tumbleweed!
Synopsis
The true and historically accurate tale of one tumbleweed that did not tumble.
Credits
Director(s): Jared Varava
Executive Producer(s): Justin Varava, Jared Varava
Producer(s): Matt Goldberg, Sebastian Bauer, The Varava Brothers
Screenwriter(s): Justin Varava
Cinematographer: Damian Acevedo
Editor(s): Otto Arsenault / Jared Varava
Production Designer: Josh Inch
Sound Designer: J.M. Davey / Zach Seivers
Music: Tim Rutili
Principal Cast: Gabriel Meyer, Peter Carlson, Brian McGuire, Tim Rutili
Director Bio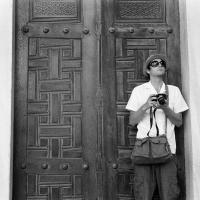 Jared Varava's award-winning short films and music videos have screened internationally, and have been distributed by "The Ignite Series" (GenArt's traveling exhibition) as well as by magazines such as Paste, SmileFaucet, and Aesthetica.
Contact

Public Film Contact
Jared Varava
An Illusion of Movement
thecopyist@gmail.com
3237082960
638 Echo Park Ave
Los Angeles
CA
90026
Stills