A Fábrica
Synopsis
An inmate convinces his mother to take a risk smuggling a cell phone for him into the penitentiary.
Credits
Director(s): Aly Muritiba
Executive Producer(s): Antônio Junior, Marisa Merlo
Producer(s): Antônio Junior, Marisa Merlo, Aly Muritiba
Screenwriter(s): Aly Muritiba
Cinematographer: André Chesini
Editor(s): Rudolfo Auffinger
Production Designer: Alex Rocca and Ana Deliberador
Sound Designer: Alexandre Rogoski
Principal Cast: Andrew Knoll, Eloina Duvoisin, Arnaldo Silveira, Moa Leal, Louise Forghieri
Director Bio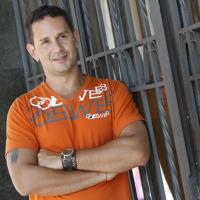 Aly Muritiba was born in 1979. In 1998 he moved to Sao Paulo and currently lives in Curitiba. He graduated in History from the USP, a specialist in Communication and Culture in UTFPR and studied film and TV in FAP. It is a partner at independent production company Grafo Audiovisual.
Contact

Public Film Contact
Antônio Júnior
Grafo Audiovisual
antonio@grafoaudiovisual.com
+55-41-3095-0608
Rua Dr. Pedrosa nº430 3rd floor
Curitiba
Paraná
80.420-120
Stills