Another Bullet Dodged
Synopsis
A wolf in sheep's clothing who thinks he is a sheep.
Credits
Director(s): Landon Zakheim
Producer(s): Todd Luoto, Siobhan Mahoney
Screenwriter(s): Landon Zakheim, Todd Luoto
Cinematographer: Justin Gurnari
Editor(s): Bryan Irving
Production Designer: Hillary Gurtler
Sound Designer: Erik Schuiten
Principal Cast: Vincent Cardinale, Jennifer Landon
Director Bio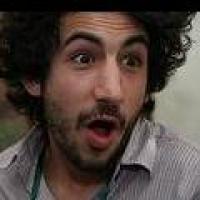 Landon Zakheim is a filmmaker and a Short Film Programmer for the Sundance Film Festival. He wrote and directed the short DELMER BUILDS A MACHINE which premiered at SXSW in 2010 and went on to play over 40 international film festivals. ANOTHER BULLET DODGED is his second short film.
Contact

Public Film Contact
Landon Zakheim
Incurable Adventurer
landonjz@gmail.com
3109901935
Los Angeles
CA
Stills