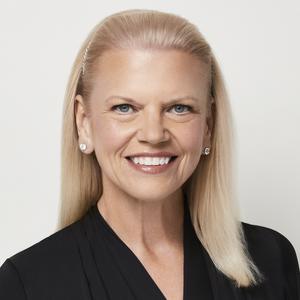 Ginni Rometty is the former Chairman, President and CEO of IBM. Ginni became CEO of IBM in 2012 and retired form the company on December 31, 2020. During her tenure she made bold changes to reposition IBM for the future, investing in high value segments of the IT market and optimizing the company's portfolio. She reinvented more than 50 percent of IBM's portfolio, built a $21 billion hybrid cloud business and established IBM's leadership in AI, quantum computing and blockchain, while divesting nearly $10 billion in annual revenue to focus the portfolio on IBM's high-value, integrated offerings. IBM also achieved record results in diversity and inclusion under Ginni's leadership. Ginni is the co-chair of OneTen, an organization that will combine the power of committed US companies to upskill, hire and promote one million Black Americans over the next 10 years into family-sustaining jobs with opportunities for advancement. She serves on the Board of Directors of JPMorgan Chase, the Board of Directors of Cargill, the Board of Trustees of Northwestern University, where she is a Vice Chair, the Board of Trustees of Memorial Sloan-Kettering Cancer Center, the Board of Trustees of the Brookings Institute, and on the Council on Foreign Relations.
Ginni has a Bachelor of Science degree with high honors in Computer Sciences from Northwestern University, where she later was awarded an honorary degree. She also has honorary degrees from Rensselaer Polytechnic Institute and North Carolina State University.
She is the author of "GOOD POWER: Leading Positive Change in Our Lives, Work, and World" (March 7, 2023; Harvard Business Review Press).
Events featuring Ginni Rometty
Events featuring Ginni Rometty