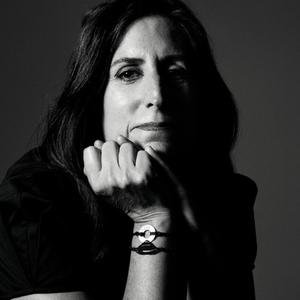 Nonny de la Peña is the program director of ASU's Narrative and Emerging Media program, where she leads a best-in-class research and graduate program with a focus on new narratives developed using emerging media technologies in the areas of arts, culture and nonfiction. She comes to the new Los Angeles-based center -- a joint undertaking by The Sidney Poitier New American Film School, in the Herberger Institute for Design and the Arts, and the Walter Cronkite School of Journalism and Mass Communication -- with more than 20 years of experience as an award-winning writer, director and producer in virtual, augmented and extended reality, film, print and television.
De la Peña has been on the cover of the Wall Street Journal magazine as a WSJ "Technology Innovator of the Year" and has been called "The Godmother of Virtual Reality" by Engadget, The Guardian and others. Fast Company named her "One of the People Who Made the World More Creative" for her pioneering work in immersive journalism, a field she is widely credited with establishing. She is one of CNET en Español's 20 most influential Latinos in tech, and a Wired Magazine #MakeTechHuman Agent of Change. A former correspondent for Newsweek, she has more than 20 years of award-winning experience in print, film and TV. Her virtual-reality work has been featured by the BBC, Mashable, Vice and Wired.
As founder and CEO of Emblematic Group, de la Peña uses cutting-edge technologies to tell stories — both fictional and news-based — that create intense, empathic engagement on the part of viewers via immersive virtual, mixed and augmented reality. Her latest breakthrough is Emblematic's WebVR platform REACH.Love, a no-code toolset that creates scalable distribution in the medium, democratizes content authorship and empowers new voices to share their stories.
Her paper in the MIT journal Presence, "Immersive Journalism: Immersive Virtual Reality for the First-Person Experience of the News," is the second most downloaded article in the journal's history, and her TED talk, which describes the use of cutting-edge technologies for putting viewers on scene at real news events, has garnered more than 1,300,000 views. Her piece "Hunger in Los Angeles" became the first VR piece ever shown at Sundance; it was followed closely by "Use of Force," which became the first VR piece ever to be shown at The Tribeca Film Festival. More recently, her immersive media project "A Life in Pieces: The Diary and Letters of Stanley Hayami," which brings to life the wartime diary of a Japanese-American teenager imprisoned with his family during WWII at the Heart Mountain camp in Wyoming, had its world premiere at Tribeca Festival in June 2021. No stranger to breakthroughs, de la Peña created the first video embed for the New York Times Science Times when she wrote and produced the piece "What's Making That Awful Racket? Surprisingly, It May Be Fish" in 2008, which made it to the top 10 most emailed list.
Some of her awards include: SXSW Innovation Awards Hall of Fame in 2020, Wall Street Journal Magazine: Technology Innovator of the Year in 2018, Digital Entertainment Group: Hedy Lamarr Award for Innovation in Entertainment Technology in 2018, Knight Foundation: Innovation Award in 2016, My Hero Project: New Immersive Storytelling Award in 2015, Mirror Awards: i3 Award in 2016 and Center For Conscious Creativity: FutureVision Award in 2015. Online Journalism Awards include: Excellence in Immersive Storytelling - After Solitary (Emblematic, Frontline) in 2017, World VR Forum: Imperial Crown - After Solitary (Emblematic, Frontline) in 2017, Vision VR/AR Summit: Social Impact Award - Out of Exile: Daniel's Story (Emblematic, Atrevida Productions) in 2017, Social Impact Media Awards: Best Sound Experience - Across the Line (Emblematic, 271 Productions) in 2017, Venice Film Festival: Official Selection - Greenland Melting (Emblematic, Frontline, NOVA) in 2017, SXSW: Official Selection - We Who Remain (Emblematic, New York Times, Nuba Reports, Arte, AJ+) in 2017, My Hero Project: Immersive Storytelling Award - Project Syria (Emblematic) in 2015, Indiecade 2014 - Impact Award - Use of Force in 2014, American Film Institute: Best of International Digital Showcase - Gone Gitmo (Pyedog) in 2008, Berkeley Film Festival: Grand Festival Award, Documentaries - Unconstitutional: The War on Our Civil Liberties (Pyedog) in 2004, CompuServe: Best Use of Platform Award - Chappaquiddick (Court TV) in 1994, Academy Award: Best Documentary Feature Nominee - Death on the Job (HBO) in 1994 and Genesis Award: 'Animal Rights' (Newsweek) in 1989.
De la Peña is a New America Fellow, a Yale Poynter Media Fellow and a Senior Research Fellow at the University of Southern California's School of Communication and Journalism. She earned a B.A. in sociology and visual and environmental studies from Harvard University, an M.A. in online communities from the USC Annenberg School for Communication and Journalism, and a Ph.D. in media arts and practice from the USC School of Cinematic Arts.
Events featuring Nonny De La Peña