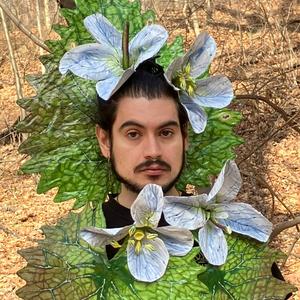 Aquadogo (aka Perra2O & Maya) is a semi-urban river otter who escaped captivity to learn and play music.


Aquadogo's sound design is inspired by and dedicated to fellow aquatic animals. This however does not prevent our non-otter listeners from benefiting; so whether you are a dandelion, a rock, an accountant, or the wind and moon themselves, love is the message and music is love. Some call it fundamental acoustics, some call it BLIM BLIM BLIM BLAM, but Aquadogo's music proposal wanders away from "calling with names" and seeks a "call to prayer" instead. With the guiding principles of sincere expression, inter-species storytelling, and perreo afectivo, this otter seeks to "hook it up"; every musical and lyrical decision is deeply rooted in animism and intended to nurture spaces of "bailotongo ceremonial". The ultimate goal is to provide fertile grounds for the practice of spiritual ecology, community healing, critical music education, eroticism, culturally dynamic evaluation, and some good ol' hip movement.


Aquadogo lives between Brooklyn, Mexico City, and Los Angeles, moving through the landscapes with a Venus in Gemini in the 10th house. "Ponte a jalar, karnal"
Events featuring Jose Godoy
Events featuring Jose Godoy