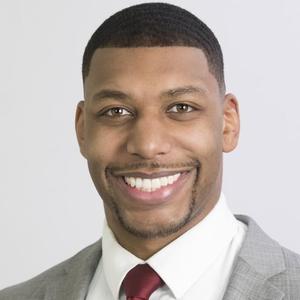 Jeff Jones is the Sports Director and weekday sports anchor at KVUE. He joined the station in August 2019. Before heading to Austin, he spent three years as the sports director at CBS-17 in Raleigh, North Carolina, but as a native Texan, he always knew he'd make his way back to the Lone Star State.
Jeff played football (outside linebacker) at Trinity University in San Antonio. After completing his undergraduate work, Jeff earned two master's degrees – one in education and another in communications. Just months after graduating, Jeff won a national talent search that allowed him to travel to the NBA All-Star Game as the league's "All-Star Reporter." While there, he got to conduct one-on-one interviews with stars like James Harden, Tony Parker, Anthony Davis and others.
In 2014, Jones began his career as a sports reporter and anchor for WOAI in San Antonio. There, he learned to juggle the responsibilities of covering a professional NBA team, college sports and several high school teams. When he isn't on the air, Jones enjoys working out, watching movies and cheering for his beloved Auburn Tigers (it's a long story, but he's a huge fan). Jeff is also a member of the National Association of Black Journalists. He has a wife and a 3 year old daughter and loves spending time with them, working out and grilling in his spare time.
Events featuring Jeff Jones
Mar 13, 2023
11:30am — 12:30pm
Events featuring Jeff Jones
Mar 13, 2023
11:30am — 12:30pm